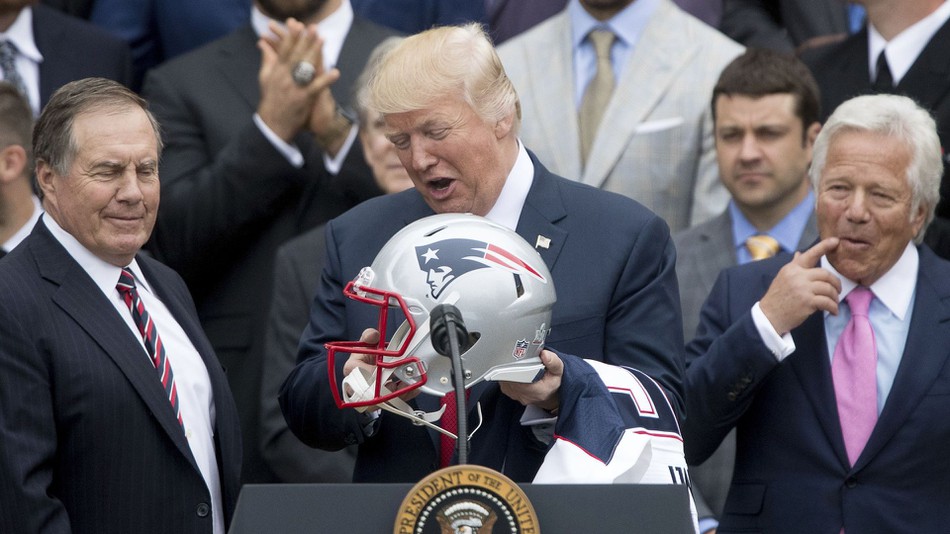 The New England Patriots visited the White House last month but some including quarterback Tom Brady skipped the visit.  Is this a form of protest?  Is this freedom of speech?  Why would they skip a visit to the White House? It is not the first time that this has happened when professional sports teams are invited to attend a ceremony at the White House but this time seems different because American society seems more politically divided under President Trump.
Professional athletes become leaders in American society because of the media attention they receive.  As society and media are so divided around political issues and President Trump  these things are beginning to affect the ways we look at famous people like NFL players.  The NFL should not be a focus for politics because people want to watch them play great football and they want to cheer for their teams.  Fans don't want to get in political debates with football players.

As it turns out, the free speech rights of NFL players are pretty complicated and have more to do with the NFL rulebook than the First Amendment. 
"I respect their right to have freedom of speech. However, in certain organizations and certain jobs you give up that right of your freedom of speech … while you serve that job or while you play in an NFL game."
Bell has a point here; the First Amendment protects free speech, but only against government prosecution — it doesn't keep your employer from making rules about what you can or can't say.
The list of players who skipped the visit include the following:
Martellus Bennett – The tight end – who's now a member of the Green Bay Packers – said before the Super Bowl was even played that he'd probably opt out. "Most likely not, because I don't support the person in it," Bennett told The Detroit Free Press. Bennett, who had five catches for 62 yards in the Super Bowl, has also been an enthusiastic supporter of the "Black Lives Matter" movement.
Devin McCourty – In a recent Green Stripe News video, McCourty, a defensive back, said he decided he wasn't going "before we even won the game." In February, he told Time it was a personal choice. "Basic reason for me is I don't feel accepted in the White House," said McCourty, who had four tackles in Super Bowl LI. "With the president having so many strong opinions and prejudices I believe certain people might feel accepted there while others won't."
Chris Long – Long, a defensive end who's now with the Philadelphia Eagles, also decided not to attend. "[When] my son grows up – and I believe the legacy of our president is going to be what it is – I don't want him to say, 'Hey dad, why'd you go when you knew the right thing was to not go?'" Long said in the Green Stripe News video. Long is the son of NFL Hall of Famer Howie Long.
LaGarrette Blount – The running back, who had 11 carries for 31 yards in Super Bowl LI, said in a February radio interview that "I just don't feel welcome into that house. I'm just gonna leave it at that."
Don't'a Hightower – A linebacker with two tackles in Super Bowl LI, Hightower said he was skipping the visit with Trump because he's "been there, done that," ESPN reported. Hightower had previously been to the White House with his Alabama college squad and also didn't go to D.C. in 2014 after the Patriots won Super Bowl XLIX – when Obama was in office.
Alan Branch – A defensive tackle who recorded half a sack in the Super Bowl, Branch said his absence was a result of the October release of a hot mic video showing Trump making lewd comments. "I have three daughters," Branch told The Boston Globe. "I wouldn't spend time away from my family to shake the hand of a guy I wouldn't want to meet with or talk to."
Patriots owner Robert Kraft – who supported Trump – said of the players who weren't planning to go: "This is America. We're all free to do whatever's best for us." He also said players skipping the ceremony was not an unusual occurrence.
"Well, you know what's interesting, this is our, I'm happy to say, fifth Super Bowl in the last 16 years," Kraft told the Today Show. "And every time we've had the privilege of going to the White House, a dozen of our players don't go. This is the first time it's gotten any media attention."

http://www.foxnews.com/politics/2017/04/19/tom-brady-among-several-new-england-patriots-players-set-to-skip-white-house-visit.html
http://www.wptv.com/sports/what-exactly-are-the-free-speech-rights-of-nfl-players_