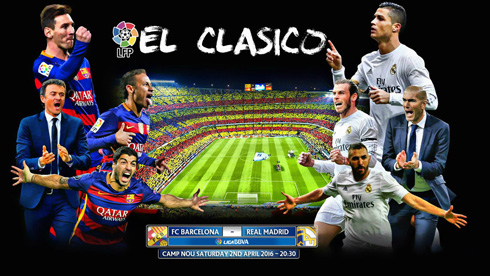 Saturday December 3rd at 10 am, one of the best soccer games in the world; El clasico was played to a tie. El clasico is a match between the most popular teams in Spain: Barcelona and Real Madrid.  But this is not just another match.  This is the best game in the soccer world. It is compared with the Super Bowl in American football. The first time that these two teams played in a nonofficial game was on May 13, 1902 in the semifinals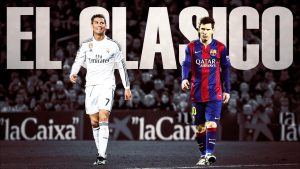 nals of  the trophy match "Copa de la Coronación". Barcelona won 3-1. In the most recent matchup before this Saturday's game, Real Madrid won with the score 2-1  on April  2, 2016.  This game is bigger than any rivalry you could imagine in American Football because of its history and because it has always been a matchup of some of the best talent in the sport.
Real Madrid has a better position on the table because they are at the first place (33) with 6 points more than Barcelona (27) in the second place. In this match Barcelona has the pressure to win because if they lost they will have 9 points less with others teams closer to them.  So, it looks like this game came through with much action and talent on both sides. It is always a pleasure to see playing between the best two in the world: Lionel Messi and Cristiano Ronaldo. They together have won 8 The FIFA Ballon d'Or. Down bellow I am going leave the position table of La Liga.
La Liga
Standings
Real Madrid
Barcelona
Sevilla
Atlético Madrid
Real Sociedad

Villarreal

Eibar

Ath. Bilbao

Celta Vigo

Las Palmas

Málaga
Espanyol

Alavés

Real Betis

Leganes

Valencia
Deportivo
Sporting

Osasuna

Granada
I remember when I was kid I was such a fanatic with all that related with soccer. But especially with Real Madrid. I always have been supporting Real Madrid because I like how they play. Furthermore,almost everybody in my family likes it. I think even I know more soccer than most. I practiced when I got home from the school with my neighbors  or I liked to play with my family  on my weekends. I was so happy when they won and so angry when they lost games. But, with the passage of the time I started to realize that losses and wins are not just a part of the game but they apply in real life; you have to accept if you lose and learn from it.
If you lose you accept it but the most important part of it is the feedback of what you will do to try to fix it. Now, I still support Real Madrid but I consider myself a viewer who is happy when they win games and on the other hand when they lose I just accept it because soccer is just a game, but a game that makes life more beautiful.