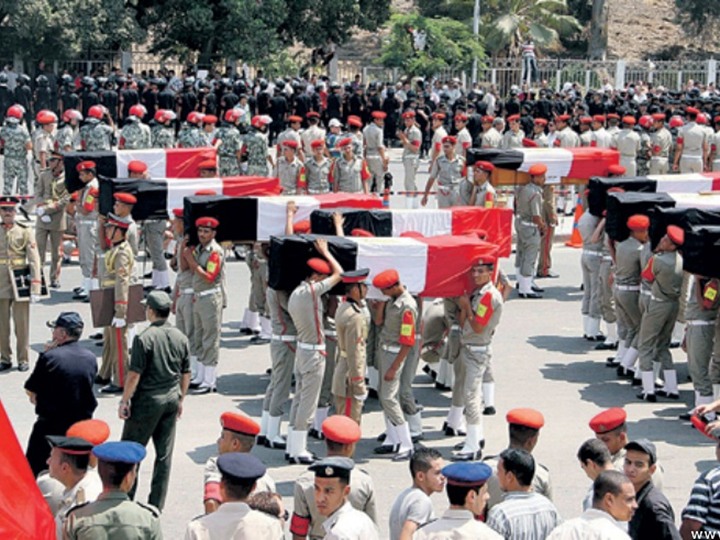 It is hard to see and listen to the bad news which happened in Egypt last Friday October 21st.  It was on Friday afternoon by two explosions in the security forces at the "Alskaskh" area east of the city of El-Arish on the Sinai peninsula.  It resulted in the destruction of armored vehicles for the Egyptian Army. The sources said the people in Arish heard the sound of a huge explosion east of El-Arish area, and then followed by another explosion. While a witness reported that the first explosion targeted the army, there was another ambush with a second explosion intended to target many people who came to help. Security sources also confirmed that the explosion was caused by two bombs that killed 33 and injured 25.
This is exactly what happened.  Some terrorists in Sinai bombed the Egyptian army armored vehicles, which resulted in the killing of 33 soldiers and 25 injured. Which prompted the announcement of a state of emergency for three months.  Most of the terrorists residing in Sinai attack the Egyptian Army because the territory has long been a disputed territory in the Middle East. It is not the first time this happened in the Sinai. It is near the Palestinian territory of the Gaza Strip.
The sources said thirty people were killed in the first attack in the area Kherobp-northwest of El Arish. Security sources said that the military helicopters moved the dead soldiers to Cairo. The sources said the car bomb attack targeted two vehicles the first vehicle at a checkpoint near a military installation. They said it was likely the big bang and the high death toll was due to the vehicle being loaded with ammunition and heavy weapons.  Conflicting accounts of security officials and witnesses were presented for the first attack, where officials said rocket-propelled grenades were used.  More than 25 people were injured. Some officials said gunmen later opened fire on a checkpoint in Al-Arish, killing three members of the security forces.
The terrorists attacked the army and they tried to kill many of  the Egyptian soldiers because they know that the Egypt army is strong. So, if they killed a lot of the soldiers, the army will be weak and then they can control the Sinai and disrupt the government of Egypt. But this will not happen because everybody knows that God will save Egypt. Terrorists do not have any authority to kill other people.  They have power without authority.  It is shameful that other people's lives can be destroyed like this.
In my opinion we are looking for the democratic compromise in Egypt.  Compromise of differences is the only way that democracy works. How can we look for this when people kill other people just to control Egypt?
http://www.reuters.com/article/2014/10/24/us-egypt-sinai-idUSKCN0ID1BZ20141024