Mount Gilead
On November 30th, during third period, my history class took a walking field trip to Mount Gilead in Centreville.
Mount Gilead is a house that is said to be built in the 1750's but its most likely to be built in the 1780's. During the civil war, this house was used as Joseph E Johnston's, Commander of the Department of Northern Virginia, headquarters.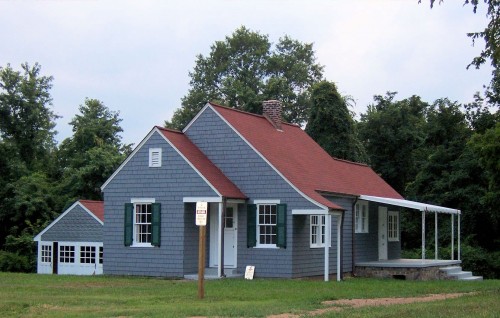 Walking from Mountain View to Mount Gilead takes about 20 minutes. Along the way you can view some reading visuals that tells you what has happened in history around the area. We also passed by and examined the Spindle Sears House. (shown left) The Spindle House was built during the Great Depression by Roger Spindle. Its called the Spindle Sears House because this house was apart of a Sears catalog. He chose a Sears catalog house because it was affordable and easy to assemble; advantages important during poor economic times.
When we arrived to the Mount Gilead House, we had a history professor named Ted McCord from George Mason talk about the house and gave us a tour of the interior. Mount Gilead is a two story house that has had a lot of renovations. It has an open front porch and back porch that is now enclosed, and used to have 2 front doors. What used to be the back of the house is now the front. They also turned around all the floor boards to make the floor look new. But its still the same floors since it was built. Makes you wonder about what scars the floor could be hiding underneath. One interesting thing I learned was about a lady named Penelope Jameson. Rumor has it that sometimes you could hear her cry at the top of the stairs. Probably crying for a soldier that never returned; since this place was sometimes a home for soldiers.