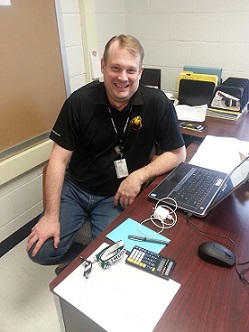 Unfortunately one of Mountain View's beloved teachers, Mr. Muench is leaving us today. Mr. Muench has been teaching at our school for two years and eighteen days as of today. We had the time to ask him a couple of questions about him and got a few answers. We found out that his favorite thing about our school is the real, strong, and intimate connection that the students have with the teachers and staff and here at the school. Mr. Muench absolutely loves our school motto he thinks it fits perfectly for our school. He also said that he considers everyone here is like a second family Mr. Muench was in charge of the Service Learning  which you can learn more about it  here http://www.fcps.edu/MountainViewS/servicelearning.html
Mr. Munch says hes going to miss us an intense amount and being at the school has changed him in such a positive way, being here at Mountain View was such an amazing experience for him. Mr. Muench will be teaching at Cardozo High school, which is located in Washington DC. You could say that they have something great coming their way!
On a brighter side, he'll be back to visit April 21st because his school doesn't have school that day and we do. Mr. Muench will also attend graduation.  He says that he looks forward to coming back and seeing the big family because he can come back and we will have open arms.
Mr. Muench has such a big effect on our school from all the great relationships he has built with the students and the staff. Mr Muench said that when you have an influence on so many people, they become a part of you.  We are fortunate to have leaders and mentors like him.
Covered by: Lobster and Wimoe