About 50 people were killed and 50 left severely injured in mass shootings at not one but two mosques in Christchurch, New Zealand. The shooting was planned thoroughly and left the nation in shock. What makes this event even more saddening is that children as young as three years of age were victimized in the duration of the event.
The shooting took place on Friday; an Islamic holy day where Muslims commonly gather at the mosque for the weekly Jummah prayer. While the gunman was shooting he also streamed it live online. Prior to the shooting the shooter published a manifesto containing his explanation for the attack. In addition, the Manifesto contained an array of white supremacist references; including anti-Muslim and anti-immigrant ideals.
Jacinda Ardern, the Prime Minister of New Zealand released a statement stating that the catastrophic event was executed by suspects with "extremist views" that the nation nor the planet has place for. Ardern and many others consider this as New Zealand's "darkest days" as she said in a press conference.  In the midst of this darkness and tragic violence toward innocent humanity, the extreme light of peace and forgiveness has shined brightly in the hearts of victims who are so committed to their faith of peace that they have offered forgiveness.
https://www.npr.org/2019/03/21/705679944/new-zealand-listens-to-muslim-prayers-a-week-after-mosque-shootings
According to the authorities; every law enforcement resource in the country was mobilized following the attack.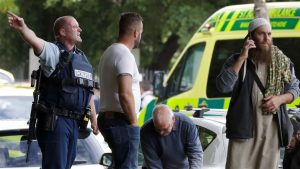 The New Zealand police stated that they were aware of the video shared online and streamed live during the attack. They are working on having the footage removed, and request people not to share the video with others. Questions had been raised after the tech companies' failure to prevent it from spreading through the internet, and the sheer barbarity of internet radicalization.
Most large media platforms took immediate action to stop the video from being spread.  Mia Garlick, a spokesperson for Facebook New Zealand stated that the footage of the shooting was promptly taken down. A spokes person for google said: "Shocking, violent and graphic content has no place on our platforms, and is removed as soon as we become aware of it. As with any major tragedy, we will work cooperatively with the authorities." Twitter also took action by removing an account they believed was linked to the main suspect and is working to keep the video of this indecent off their platform.
New Zealand prime minister Jacinda Ardern vowed that "our gun laws will change" within a day of the shooting. Less than a week later ,this past Thursday, Ardern announced major changes to bolster the country's gun laws, which will be in full effect by mid-April. New Zealand already has much stronger gun laws than the U.S. One of the many changes is that New Zealand will now ban all military-style semiautomatic and assault rifles.