Race Relations in America (Emmet Till)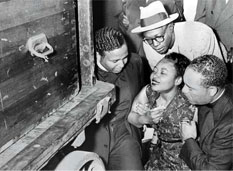 "Simeon's Story" is a book about a boys recollection of the brutal night Emmet Till was murdered. Emmet Till was from Chicago, Illinois and had traveled to visit his family in Mississippi . Emmet and his cousin Simeon worked tediously in the cotton fields as share croppers. One day after a long day in the fields they decide to go downtown and get ice cream & food. As they are shopping Emmet sees an attractive young white woman and whistle at her. Emmet unknowingly made a very bad decision which would later cost him his life.
The south in the 1950's was a place of racial tension and the whites were in charge and certain norms were established. Emmet being from Chicago was not accustomed to these rules. The woman behind the register  known as Mrs. Bryant reports this incident to the sheriff of there small town and her father.
Emmet and Simeon head back to Simeon's home were Emmet will later be abducted the following night. Mr.Bryant and another assailant come to Simeons fathers residence and demand they have custody of Emmet. Emmet  being startled is forced to put his clothes on and follow these men at night.
Simeon's family is panicking they do not know where Emmet has been taken and are worried.
After days of investigation by the small towns sheriffs Emmet was found in a near by river. His body was so severely disfigured that identification had to be made by Simeon's recognizing his ring on his hand. Simeons mother moved out of Mississippi, he and his father stayed with family. Simeon and his father would have to attend court as witnesses. They were asked to identify Mr.Bryant as one of assailants responsible for the terrible murder of Emmet. Simeon and his father did so, but sadly Mr.Bryant was  not found guilty of these charges because the defense believed the body was identifiable.
Here is an interesting video link of the author speaking.
The story above is an example of many problems America has been suffering with in regards to race relations here. In America it is sad, but Muslims are often labeled as terrorist, blacks are labeled as lazy & criminals. My opinion is that this country has to work towards solving the issues of race relations and the perception of minorities and they're foul treatment. A solution to this issue would be spreading love, peace and equality. This will encourage others to be non judgmental and empathetic of others in this world.