The Clown President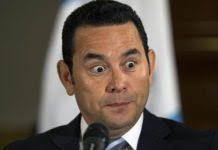 Jimmy Morales is the current president of Guatemala, and one of the worst in the history of the country. He was elected as president in 2015. He was a known actor in Guatemala and a part of Central America. Along with his brother, he had a comedy program called Moralejas. In 2010, Jimmy and his brother recorded a movie called "Un Presidente De Asombrero." They recorded this movie to demonstrate to the citizens how presidents are liars, corrupts, and repugnant. They also tried to demonstrate in this movie that politic is not business, but a commitment to the country and its future.
On the other hand, I have decided to call him the "Clown President" because when he gives a press conference, he always makes jokes about the situation in Guatemala. I don't care if he makes jokes — I just want to see him making an attempt to change the situation in my country. In May, his brother and his son went to the jail because they were stealing money. Hence, he gave a press conference, and he said that he wanted to create a law that provided the freedom for the prisoners. It created indignation. How could this be possible? Jimmy Morales said that Guatemalan prisoners could be free if they have to pay the amount of $10.00 monthly. Of course, it will be convenient for his family; it is why he wants to establish this law. However, this will end up destroying Guatemala.
I can't imagine how Guatemala will be if prisoners get their freedom. Can you imagine this?  Some people today in the United States complain about bad government but maybe they don't realize how bad government can be.