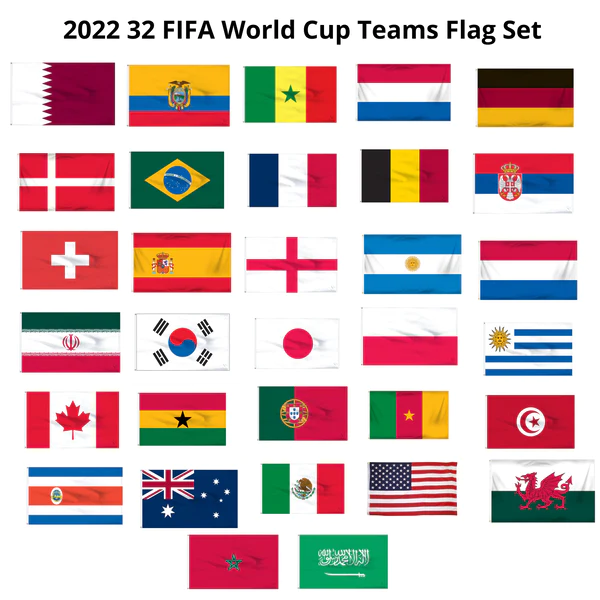 2022 World Cup
December 5, 2022
This year the 2022 World Cup is being held in Qatar. This year there are a lot of drastic changes that can happen during and post this World Cup. The teams that are in the World Cup are:
Qatar, Ecuador, Senegal, Netherlands (Group A), England, Iran, USA, Wales (Group B), Argentina, Saudi Arabia, Mexico, Poland (Group C), France, Australia, Denmark, Tunisia (Group D), Spain, Costa Rica, Germany, Japan (Group E), Belgium, Canada, Morocco, Croatia (Group F), Brazil, Serbia, Switzerland, Cameroon (Group G), Portugal, Ghana, South Korea, Uruguay (Group H).
These teams played multiple matches to qualify to get into the World Cup. In this World Cup, most believe that the top runners to win are: Argentina, France, Brazil, and possibly Portugal.
As of 11/30/2022, the Group Stages concluded with only 2 teams from each group advancing to the round of 16 of the competition.  The teams that have advanced into the round of 16 are:
England, the Netherlands, Argentina, Australia, Senegal, the USA, France, Poland, Morocco, Brazil, Croatia, and Portugal.
Qatar in their own country was the first one out of the competition.
CURRENT HIGHLIGHTS: The Great 8
On December 10, 2022 we had 2 world cup quarter-final matches: Morocco VS Portugal (1,0) Morocco came out on top in the 42 minute having En-Nesyri score the only and game defining goal. Going into this match Morocco were considered the underdogs but they came out on top and eliminated Portugal. This was a very tragic and sad moment for all Portuguese people but especially for Cristiano Ronaldo and his worldwide fans. Cristiano Ronaldo had big hopes of finally taking home a World Cup victory before the end of his career, however his hopes and dreams came to a halt as Morocco came out on top. The next match that day that we had was England VS France (1,2). France won by the one goal ahead to keep them in the world cup. Going into this match I think no one really knew how to predict the outcome, however I think people were leaning a little more towards France due to their line-up and the way they have been playing throughout the world cup so far, and to the fact that they won the last world cup.
Player Matchups
https://www.straitstimes.com/sport/world-cup-diplomat-and-disruptor-set-for-centre-stage-in-argentina-croatia-semi-final
Nader Wahba (on right of picture) is a soccer player who played as a Right Wing for the Egyptian league club (Future FC) from 2016-2018. Nader is known for his quick speed, vision, and his talent with passing.
Anas Ahmed (on left of picture) was a soccer player who was known for his speed and composure, in his professional career he scored 111 goals and has played 204 games in his career. However he had to hang up his boots and his professional soccer career had to come to an end due to medical issues. Now Anas coaches the team he once played for.
An Egyptian American Perspective
This World Cup is basically a possible defining moment for many players. The younger generation like Keliyan Mbappe (PSG)  and Ousmane Dembele (Barcelona) both represent their country France. Keliyan Mbappe caught people's attention with his speed and ball skills, Ousmane Dembele caught his fans attention by using his very quick speed and vision. There are alot of new and upcoming players but none can compare to what Lionel Messi (35 years old/PSG) and Cristiano Ronaldo (37 years old/Man United) have done in their careers. In my opinion Lionel Messi is the greatest player in soccer/football history. His magic on the pitch and his amazing techniques that he has. I very much admire Cristiano Ronaldo as he is definitely one of the greatest players in the world and the amount of joy he has brought to all soccer/football players. I do not think that many can accomplish all of the greatness Lionel Messi and Cristiano Ronaldo have achieved. However this is my personal opinion, one of the players that I see has given/has the most potential to get close to Lionel Messi and Cristiano Ronaldo is Mohamed Salah (30 years old). Mohamed Salah (Liverpool) has captivated the world with his amazing talent/traits that he has on the pitch. I personally think that Mohamed Salah is more like Lionel Messi. Both Salah and Messi show their magnificence with the way they put on a show when they are on the pitch. Salah reproduces sparks from the prime time Lionel Messi in the way that he runs the show/game; he knows how to take the game in his hands and when he does that like Lionel Messi, he is unstoppable. Mohamed Salah is also the captain of the Egyptian National team and has accomplished quite a lot and has made history for our country. I may feel that Mohamed Salah is close to Lionel Messi because I am Egyptian. Mohamed Salah has brought a lot of joy to the world but especially us Egyptians. He led us to the world cup in 2018 after sitting out of any world cup since 1992. Of course almost all Egyptians think that Mohamed Salah is the greatest player of all time, for he is definitely one of the best Egyptian players Egypt has ever seen. Egypt unfortunately did not qualify for the 2022 world cup as they failed to score enough penalties in their penalty shootout with Senegal.
This World Cup is one of the most intense and defining ones of our generation. Speculation of many players like the legends of football/soccer history Lionel Messi (35 years old) and Cristiano Ronaldo (37 years old). Speculation and rumors going around suggest that this world cup will be the last for both legends and their famous and wonderful careers will come to a close post world cup. This is a big loss for the majority of our generation and some of the generation before us. We are losing 2 of the best football/soccer players and all their magic and magnificence on the field that they've created.
The Ending is near
Dec 13, 2022 Argentina and Croatia went head to head. Argentina prevailed and are now in the finals of this dramatic and intense world cup. Today on December, 14 (France VS Morocco) we have the defining match to see who will continue to meet and take on Argentina.
We are reaching the end of this very thrilling world cup. As Argentina defeated Croatia to reach the final of the world cup. Argentina knocked out Croatia with their 3-0 lead. Now as our second semi-final game is about to commence the world is waiting to see who will prevail and go on to the most defining final we've had in a very long time. France VS Morocco who will move on to the final to take on Argentina. This 90 minute game will give the world the answer they've been waiting for.  
The final of this intense and dramatic world cup has come and gone and Argentina overcame France in a very intense and dramatic world cup final. Argentina vs France after 120 minutes of a emotional rollercoaster for the players and the whole world, it ended 3-3 and went into penalties as this led Argentina to take home the most important title soccer has, as the defeated France 4-2 in penalties. Lionel Messi finally carried the world cup trophy with his country after fighting and gunning for it his entire career. Lionel Messi's last dance was one that will last a life time in soccer history and in everybody's hearts. The world thanks Lionel Messi for all the sweat and tears he put into his career to end his national career on the best note you possibly can. A boy from Rosario, Argentina to a world legend.
This World Cup is a defining moment for many players.