21 Savage arrested by ICE and facing deportation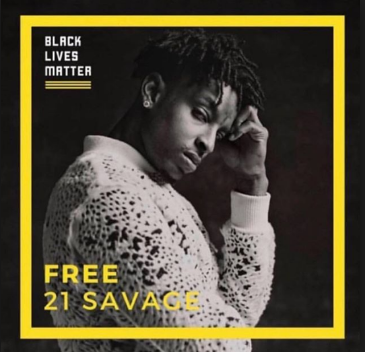 On February 3 2019, rapper 21 Savage was taken into custody by ICE. Savage, born Sha Yaa Abraham-Joseph, is from the United Kingdom and entered the United States legally in 2005; unfortunately his visa expired in 2006. Suspiciously enough, five days prior to his arrest Savage spoke out against Donald Trump's family separation policy on national television. This is the most high profile arrest for ICE as Savage is a young African American celebrity who was up for two Grammys the Saturday night following his arrest.
"My brother lost his life and it turned me to a beast, My brother got life and it turned me to the streets," he rapped. "I been through the storm and it turned me to a G, But the other side was sunny, I get paid to rap on beats."
This is Rap Music—America's most significant form of pop music—at its most empathetic and humane.-CNN
Although Savage didn't have to add those lyrics, he couldn't express his experiences and hardships without factoring in the suffering of his loved ones.
An ICE spokesperson reportedly told CNN, "His whole public persona is false." Many have taken offense to that statement as Savage moved to this country as a child and grew up in the midst of American culture, and now he is contributing to it.
A large number of fellow rappers and artists called for Savage's release on social media, including Cardi B, who wrote on Instagram: "We will read and educate ourselves on this situation and we will take action! 21 did not come here illegally and was not caught doing anything illegal or doing any mischief! [i]n fact he have change his whole life around and as ya can see he's been very positive in his actions and music."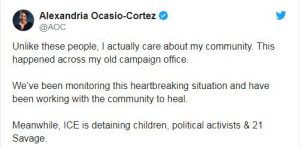 Another fellow rapper by the name of Jay-Z has hired a well-known, New York-based immigration lawyer, Alex Spiro, to assist with the case. Spiro told TMZ—a US showbiz website—the legal team will "not stop" until savage is released. Spiro added: "What we have here is someone who overstayed their visa with an application pending for four years—not a convicted criminal that needs to be detained and removed but, by all accounts a wonderful person, father, and entertainer who has a marijuana offense which was vacated and sealed."
On Tuesday February 12, 21 Savage's legal team announced the rapper had been granted release from custody on bail, but will still have to proceed his deportation process. According to his lawyers he has a pending application for a U visa as a victim of crime. They also say he has potential relief because he has U.S. born children and a mother who is a legal permanent resident.
Despite the support Savage is getting from fellow rappers and celebrities, this arrest has led to Savage being a victim of cyber bullying. People find the fact that Savage is actually a UK rapper very funny. As people find out Savage is from the UK, a number of memes about Savage's British heritage emerge all over the net. Even other celebrities have hopped on in on this trend, singer Demi Lovato has shared a photo of someone writing with a quill pen with the caption "This how 21 Savage be writing his verses". This tweet has caused a lot of backlash for the singer; as fans and other celebrities were furious at her for making fun of Savage's situation. Angry fans have even gone as far as to make fun of Lovato for being a heroine addict. All this backlash has caused Demi Lovato to delete her twitter account.

We are in the era of social media, and have never had this many platforms to exercise our first amendment—the freedom of speech. The problem is people are abusing social media; using it to make fun of others. With very few regulations regarding social media people are susceptible to starting conflicts, bullying, and much more. Furthermore many people say things on social media that they would not say in person, which again causes people to be rude to others online.
https://www.cnn.com/2019/02/03/us/rapper-21-savage-arrest-ice/index.html
https://www.msn.com/en-us/music/news/21-savage-performs-introspective-a-lot-on-tonight-show-watch/ar-BBSTovv
https://www.washingtonpost.com/arts-entertainment/2019/02/12/rapper-savage-be-released-ice-custody/?noredirect=on&utm_term=.a14e404745f7
View Comments (3)