88 Year Old School Celebrates 25 Years as Mountain View
On Friday May 20th the Mountain View family celebrated 25 years since opening its doors as a Fairfax County Alternative High School.  It was a day of welcoming and remembering for the community as former teachers,graduates, current students and staff all gathered with family members and friends.
The celebration began with the scholarship awards presentations in the auditorium.  The Mountain View Foundation supports students financially in their next steps of their lifelong educational journey.  Scholarships have been set up in memory of students, staff and family members and they total about $40,000 a year for Mountain View graduates.  One 2018 graduate and scholarship winner returned to school after graduating from GMU in 2022 in order to thank teachers and staff for the transformational support that has launched her on a path of success in graduate school studies for the fine arts.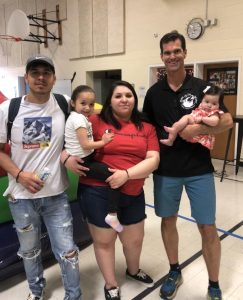 Festivities on Friday included a door decorating contest, an alumni walk through memory lane in the library, carnival games in classrooms, face painting in the hallway, inflatable obstacle courses, and a huge inflatable slide set up in the gym. The Cafeteria served up hot dogs and burgers freshly grilled  by one of the history teachers and his son.  There were plenty of chips drinks and desserts as well.  The outside field was prepared for a soccer showcase but the summer like heat kept outdoor activities low.  Former staff members and graduates gathered in the library to laugh and share memories as they viewed old photos and highlights of the schools's history.  Students and staff were invited to reflect on what Moumtain View means to them.  The telling of stories is how history began; we realized just how meaningful the Mountain VIew experience has been for all of us..  Some of these powerful narratives were recorded for posterity.
School History: https://mountainviewhs.fcps.edu/about/history
From September 1996 through June 2022, Mountain View continues to endure as an educational beacon of hope for a great diversity of students seeking 1st, 2nd and sometimes 3rd chances. When you consider the variety of students who have come through these halls it is clear that there is no Family more diverse than the Mountain View Family.  It is a place that cannot be sterotyped.
Students from every continent of the world have been welcomed to Mountain View.
Students escaping war and conflict have found new understandings of peace at Mountain View.
Students caught up in trouble in their base schools and home communities have found safety and security.
Students  who are 18 or older and are seeking the high school degree have been supported with the flexibility.
Students who are teenage parents find community support and classes with specific skills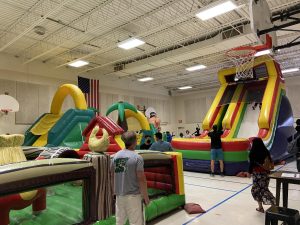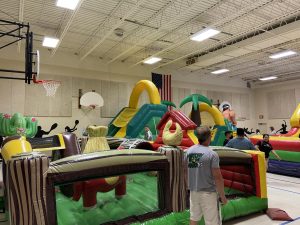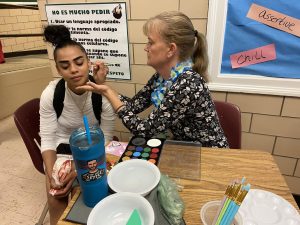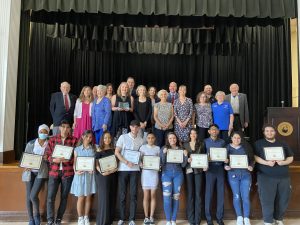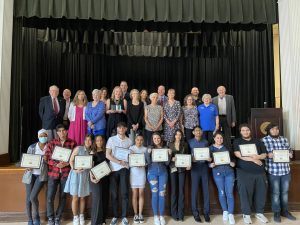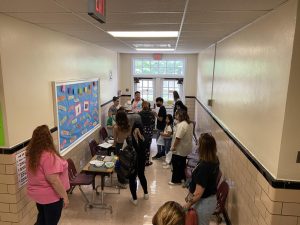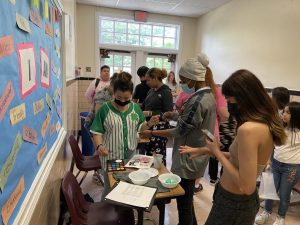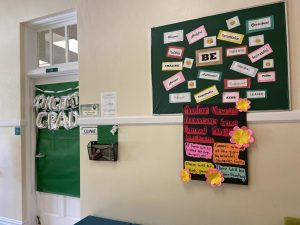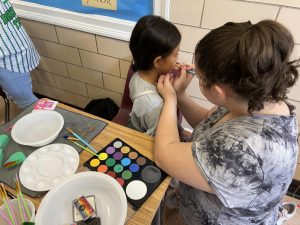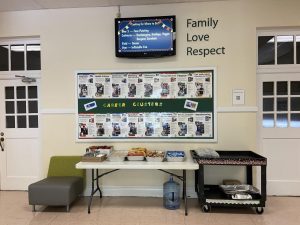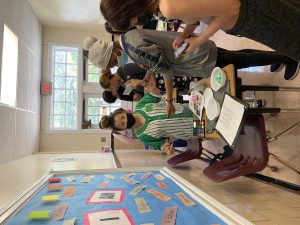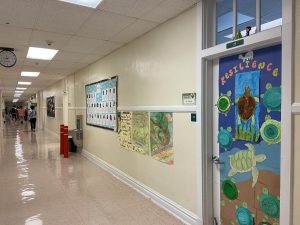 Perspectives from English Language Learners
The day of the school party I had a great time with my friends and classmates, we player a lot, we ate everything and we had fun painting friends and making drawings on our skin with women's makeup paint, I felt very good that day for all the games I've been playing. – Hernan
On Friday I had a great time, it was a lot of fun because i went up the slides of the game with the daughter of my Doris it was fun I liked it a lot. Moreover the food was good they gave us good food. – Maria
On Friday we had a good time because we had games, food, prices and stuff, first we had the first two full terms, then we went to the auditorium to look at the ones who were already graduating and went to college, then after we went to the games me met some family members of teachers then we  went to the gym where the inflatables were, we played there with my friends, then we went so eat, we had a good time, it was all fun, then we waited for the bus and we went home. – Carlos
On Friday, the school celebrated its anniversary. It was fun. There were games for everyone, including the children. The food was rich different rifregerious. All the students happy for the celebration, in the games we completed to win with the other students. – Gabriela
Friday was a good day, we played basketball and old more fun activities, like slides, painting face, play soccer and other activities. – Axel
Friday was a very fun day I think I had never laughed as much as that day. I was very stressed and it was nice to spend time with the teachers, it would be nice if they did something similar on the last day of class. – Nicole
Friday was a very beautiful day. I felt very happy. I shared my joy with my friends and enjoyed many games. I also loved the food. It was an incredible day since some of my friends graduated. – Saul
Leave a Comment