Dracula
What is the story about Dracula?
Created by Bram Stoker in his 1897 Gothic horror novel, Count Dracula is a nobleman who uses his powers as a vampire to dominate his victims. Even though Dracula didn't succeed in the novel, the fictional character has lived on to dominate the real world as one of its most popular supernatural villains.
Summary about the history of Dracula
Dracula comprises journal entries, letters, and telegrams written by the main characters. It begins with Jonathan Harker, a young English lawyer, as he travels to Transylvania. Harker plans to meet with Count Dracula, a client of his firm, in order to finalize a property transaction. When he arrives in Transylvania, the locals react with terror after he discloses his destination: Castle Dracula. Though this unsettles him slightly, he continues onward. The ominous howling of wolves rings through the air as he arrives at the castle. When Harker meets Dracula, he acknowledges that the man is pale, gaunt, and strange. Harker becomes further concerned when, after Harker cuts himself while shaving, Dracula lunges at his throat. Soon after, Harker is seduced by three female vampires, from whom he barely escapes. He then learns Dracula's secret—that he is a vampire and survives by drinking human blood. Harker correctly assumes that he is to be the count's next victim. He attacks the count, but his efforts are unsuccessful. Dracula leaves Harker trapped in the castle and then, along with 50 boxes of dirt, departs for England.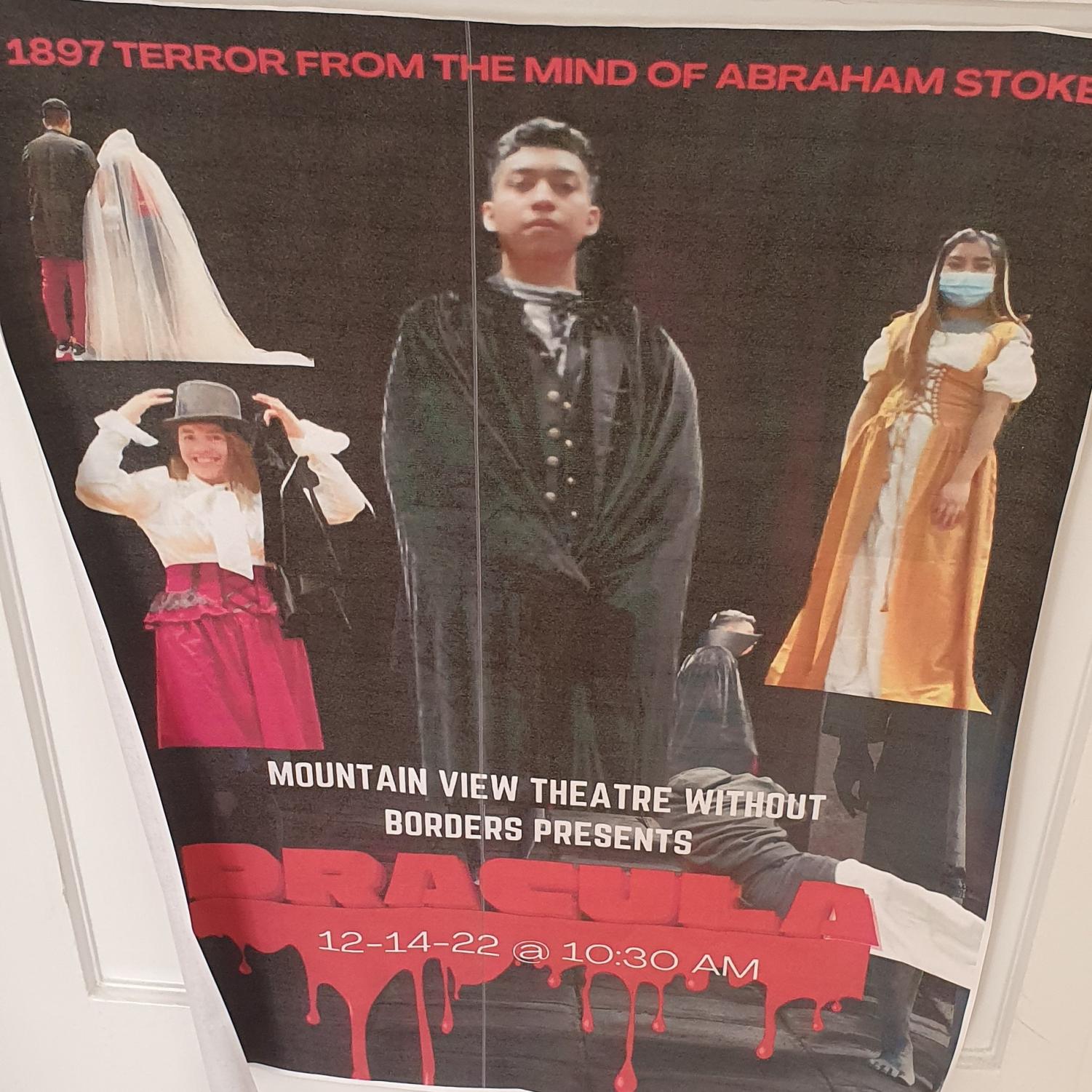 This is the first school play I have seen in over 14 years. The stage and the props were masterfully and artistically designed to depict the world of dracula, and every actor put their heart and soul into their performance. Artistically enthralling, mesmerizingly macabre, miraculously Dracula. I imagine it allows people to conect through the designing of the set and through the interaction with eachother as characters on stage. – Mamadou

LIGHTS! Camera…Action! Thanks to James behind the scenes the actors shined bright for all to see.
What Can Anyone Learn From Theatre?
 In the theater we can learn many things such as oral communication skills, many students find that drama helps them develop the confidence that is essential for speaking clearly, lucidly and thoughtfully, Motivation and commitment, being involved in theater productions and classes requires commitment and motivation, The ability to work independently, in the theater, you are often assigned tasks that you must perform without supervision. team leaders, Time management skills. As a student, being involved in theater forces you to learn how to manage your time.
      My favorite subject is theater. First, it is funny and I like speaking with my friends. Then I learned how I can act in different situations. Also, it is a good distraction for me from the problems that I have out  of the school.  I love sometimes when all students in the theater are nervous, it is  because we talk to each other asking what we have to do. Theater shows how we can work in a group, because we can do a play with each other. In conclusion, theater is a good class and a good way to make friends and that is why my favorite class is theater.  – Brandon
Can you imagine learning a language while performing with your peers?  18 students are doing just that.
I thought that the way they took on every role and gave us a memorable performance was so great. Seeing the people we surround ourselves everyday put on something to bring us all together is something that we should all be proud to see. I thought that everyone put their heart and soul into this performance and those who helped set the stage and performance up.    – Anas
An Interview with W.C.
What is your role in the production of Dracula at Mt. View? Well, my role in the production of Dracula is that of stage manager.

What are you learning in theater class? Well, one of the many things that I am learning in theater is being able to express myself with the English language, to work as a team.

What skills are you practicing?  

Voice management: vocalization, intention and projection.

Control the rhythm, control the attention.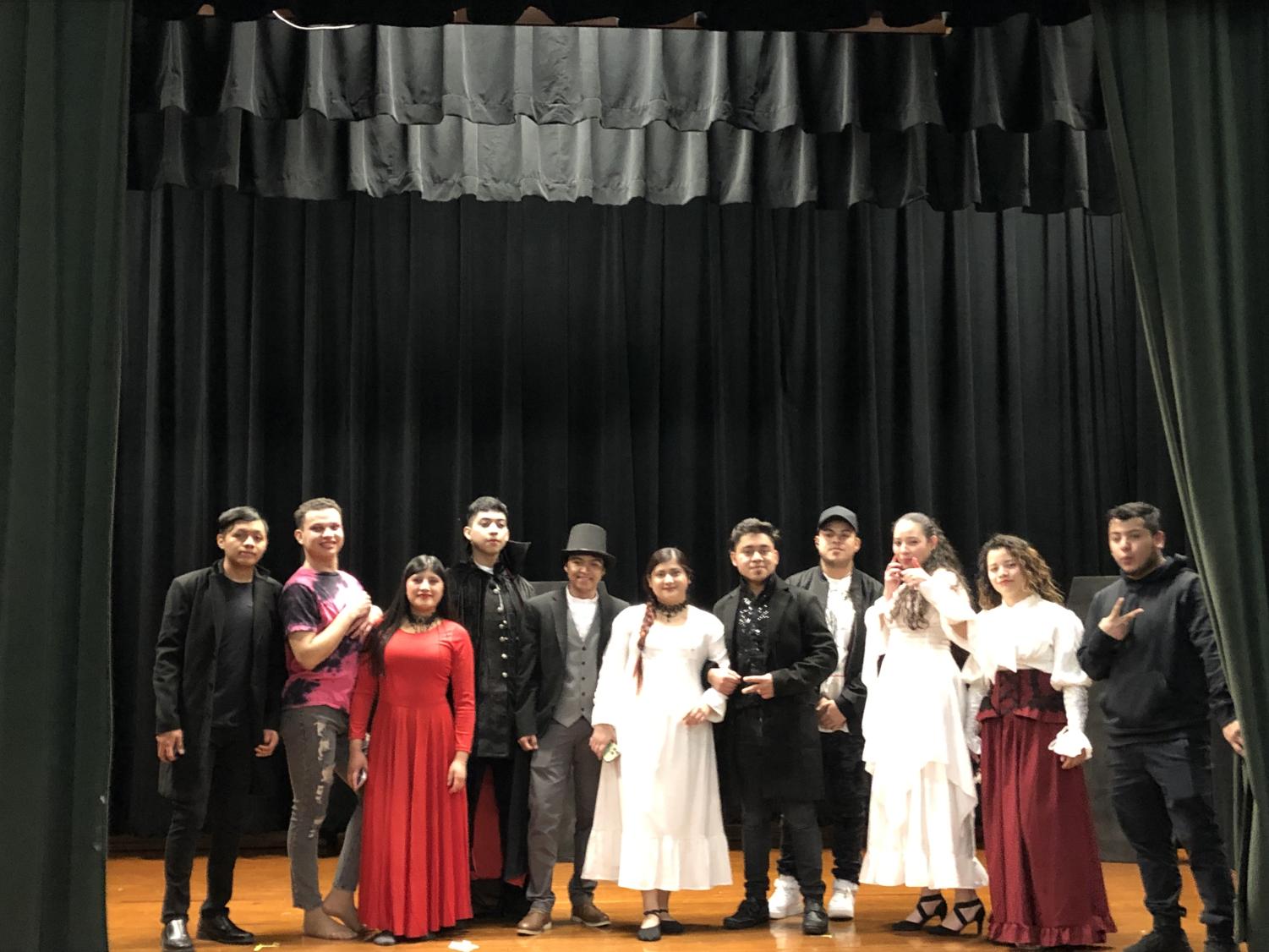 Leave a Comment