A Conflict of Rights at the Border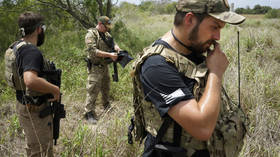 The US and Mexican Border continues to  witness a conflict of rights.  there are basic human rights of all people and also civil rights that are being treated unequally.
FREEDOM of SPEECH
Journalists who have a 1st amendment right to freedom of assembly and freedom of speech say they are being unnecessarily detained and discriminated against at the border. The government says it needs information from the journalists for evidence in order to plan for better security. Journalists have been complaining for couple moth that their freedom of speech have been getting limited.  Its an abuse of authority because Border agents are a criminal  investigation agency, they are not an investigative intelligence agency. The department of homeland security and Immigration Customs Enforcement officers are overstepping legal constraints on the government that should protect civil liberties and civil rights of all American citizens; including journalists.  President Trump thinks the media is all propaganda and he only wants it to share his views.
https://www.npr.org/2019/03/07/701134722/u-s-reportedly-compiled-database-of-journalists-working-along-southwest-border
Revelations about the dossier prompted the American Civil Liberties Union to call it "an outrageous violation of the First Amendment."
That's according to ACLU staff attorney Esha Bhandari, who added, "The government cannot use the pretext of the border to target activists critical of its policies, lawyers providing legal representation, or journalists simply doing their jobs."
Why is free speech so important?  freedom of speech allows us to see different points of view. If the power of government comes from the people then the people must have  a freedom of reporting what they see Also, freedom of speech  and the 1st amendment is a human right.  It allows people to exchange ideas,   move where they choose and peacefully protest
Congress shall make no law respecting an establishment of religion, or prohibiting the free exercise thereof; or abridging the freedom of speech, or of the press; or the right of the people peaceably to assemble, and to petition the Government for a redress of grievances.
FREEDOM of MOVEMENT vs CITIZEN "SELF DEFENSE"
There are reports of US citizens who are not officers of the law detaining migrants at the border at gunpoint.  These militia groups say that they are protected by the 2nd Amendment right to self defense.  Larry Mitchell Hopkins, 69, was arrested in the New Mexico border city of Sunderland Park on charges of being a felon in possession of firearms and ammunition, the FBI said. Hopkins found himself in a similar situation in 2006 in Klamath County. The report states that Hopkins was seen at a gas station in Keno, Ore., near the California Mexico border, showing firearms to a group of children, telling them that he was a police officer.
On Thursday, the New Mexico chapter of the American Civil Liberties Union sent a letter to New Mexico's governor, Michelle Lujan Grisham.  In New Mexico there have been militia groups detaining immigrants at gun point.
"We cannot allow racist and armed vigilantes to kidnap and detain people seeking asylum," the letter said. "We urge you to immediately investigate this atrocious and unlawful conduct."
In my opinion the militia groups are really violating the basic human right of freedom of movement because they are not even part of the government to stop migrants. They are not in immediate danger and have no right to keep people detained at gunpoint.  Also, this topic leads a lot of questions too.  For example. Are these groups getting paid by the government? What do they win by stopping migrants? Also, I think that those migrants have the right of self defense.
View Comments (3)