A Day Without Immigrants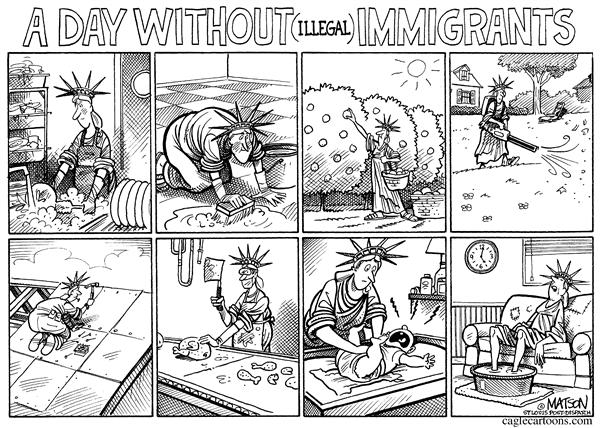 In cities around America, thousands of construction companies, restaurants and other businesses braced yesterday for "A Day Without Immigrants," a combination boycott/strike that highlights the contributions of immigrants to U.S. business and culture.
The movement is a response to President Trump's immigration agenda, which includes a pledge to seal the U.S. border with Mexico and a travel ban on citizens of seven majority-Muslim countries (which is now on hold).  More days like this could be in our future.
Some businesses are closing for the day; others are staying open and promise to contribute a share of the day's proceeds to nonprofits that aid Latino communities. In a number of cases business owners are guaranteed by their staffs' wishes, after holding votes to decide whether to open.
The day of protest comes after Immigration and Customs Enforcement agents alarmed immigrant rights advocates by arresting some 680 people in raids across the U.S. last week. Department of Homeland Security has called those raids routine, saying they targeted people who had criminal convictions.
In Washington D.C., at least two schools are closed for the day.
Restaurants Will Test If The U.S. Can Stomach 'A Day Without Immigrants'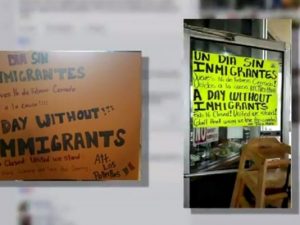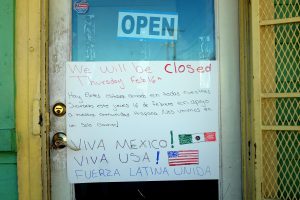 They're closing their doors in solidarity with many of their employees.
Restaurant owners across the country are hoping the way to the nation's conscience is through its stomach as they prepare to close their businesses in solidarity with immigrants on Thursday.
The restaurateurs are doing their part to support the grassroots movement nicknamed "A Day Without Immigrants," which asks immigrants not to go to work, open their businesses or buy any products for a full day on Feb. 16. The goal is to impress on President Donald Trump the importance of immigration.
It's no surprise that restaurateurs are taking a stand against the Trump administration's immigration crackdown, which has led to an uptick in raids by Immigration and Customs Enforcement authorities. An estimated 1.2 million undocumented immigrants work in food preparation and serving jobs in the United States, according to 2012 Pew Research Center data.
Some high-profile names in the restaurant business have signed on to the effort, including Spanish-born chef José Andrés, who was sued by Trump after he pulled out of plans to open a restaurant in the new Trump hotel in Washington, D.C. Andrés announced on Twitter that he will be closing all five of his D.C. area restaurants on Thursday in solidarity.
A lot is happening on the immigration and refugee fronts. What most draws your attention?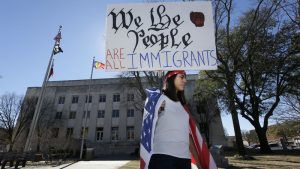 With Trump's  three executive orders the new administration has initiated a rapid and unstable shift in U.S. immigration policy toward a more limited access.
The first executive order aims to build a wall along the Mexican border that, estimates suggest will cost $15 to 25 billion at a time when unauthorized immigration from Mexico is essentially coming to a termination. There are several other issues that people have pointed out, but that to me is a singular fact that we have good data on, It seems the wall is not really necessary.
The second order is a plan to aggressively step up the deportation of unauthorized immigrants at a time when immigration courts are tremendously stockpiled.
And then this last order temporarily shuts down the refugee resettlement program in order to fight terrorism. But the data suggest that since the Refugee Act of 1980, which put current screening procedures into place, there hasn't been a single fatal terrorist attack committed by a refugee in the U.S.
A Nation Of Immigrants
About 40% of Forbes 500 companies were founded by immigrants or their kids. This includes many of the most successful American brands: Apple, Google, Intel. The same goes for science. At the Stanford GSB, 40% of MBAs are citizens of another country. With these policies emphasizing a more exclusionary approach and creating a climate that's hostile toward immigrants you will push some of this much-needed energy out of the U.S. economy and stymie discovery and innovation going forward.
"When the tyranny becomes law, Rebellion is a right"
-Simon Bolivar- South American revolutionary
"When injustice becomes law, Resistance becomes duty"
-Thomas Jefferson-  President of the United States
Sources:
http://tfitzsimons.com/gallery/el-dia-sin-inmigrantes/
http://www.forbes.com/sites/stuartanderson/2011/06/19/40-percent-of-fortune-500-companies-founded-by-immigrants-or-their-children/#44cf03577a22
http://wfae.org/post/more-250-businesses-remain-closed-thursday-immigrants-protest-ice-arrests?utm_content=buffer63570&utm_medium=social&utm_source=facebook.com&utm_campaign=buffer
http://www.cnbc.com/2015/10/09/this-is-what-trumps-border-wall-could-cost-us.html
FCPS Databases:
Rymer, Justin. "Denial of Benefits to Immigrants." American Government, ABC-CLIO, 2017, americangovernment.abc-clio.com/Search/Display/1503290. Accessed 16 Feb. 2017.