A Democratic Virginia
Democrats Ralph Northam (Governor), Justin Fairfax (Lt. Governor), and Mark Herring (Attorney General) have all been victorious in the 2017 Virginia election.
This has been Virginia's first major win during the tenure of President Donald Trump and a boost heading into the 2018 midterms, when the control of the US House and Senate will be up for grabs.
Virginia's gubernatorial election was the first major win for the Democrats ability to rebound after Trump's victory. Voters in general have told pollsters that they see the commonwealth as on the right track while the nation is on the wrong track.
Northam's victory over GOP lobbyist Ed Gillespie appeared much earlier than nervous Democrats had anticipated. He didn't just beat him in northern Virginia, he crushed him. Consider Loudon County — Democrats won it by 5 points in the 2013 governor's race, and 20 points this election. Northam won by 53%, while Gillespie held 45.1% of votes, according to the New York Times.
Gillespie distanced himself from Trump personally, but embraced much of the President's agenda. This includes a focus on illegal immigration and sanctuary cities. He tried just about every trick that Trump did. His television ads portrayed Northam as enabling the MS-13 gang by being soft on immigration enforcement.
Gillespie's efforts were directly for convincing Trump voters to turn out for a former lobbyist and George W. Bush aide. It failed. He did well in rural Virginia, but the Democratic base of 2016 turned out in full force. The suburbs shifted undoubtedly in Northam's favor.
Trump tweeted "Ed Gillespie worked hard but did not embrace me or what I stand for. Don't forget, Republicans won 4 out of 4 House seats, and with the economy doing record numbers, we will continue to win, even bigger than before!".
Justin Fairfax won the lieutenant governor's against Republican Jill Holtzman Vogel. Democratic attorney general Mark Herring defeated Republican challenger John Adams, who has hit Herring for his refusal to defend Virginia's same-sex marriage ban in court.
Source: http://www.cnn.com/2017/11/07/politics/2017-us-election-highlights/index.html
Here are the overall results of the 2017 VA election: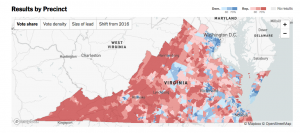 Here are the VA Governor results:

Here are the Lieutenant Governor of VA results:

Here are the Attorney General of VA results: