Our Tradition:
Gratitude is a feeling of appreciation for the blessings or benefits we have received. By cultivating an attitude of gratitude, we will be happier. We look forward to our annual Friday Family gathering around the common table on November 17th 2023.
Mountain View High School celebrates Thanksgiving with teachers and students. This is an activity that takes place every year in the month of November; it is based on spending lunch time with our school family and giving thanks for what has been achieved during the year. In Mountain View we always celebrate this tradition a week before Thanksgiving itself. This celebration is very beautiful because it is done as a community.  It is unique to have the privilege of celebrating Thanksgiving as a school family.  This is why I feel very happy and grateful to have the opportunity to share this wonderful tradition with teachers and students.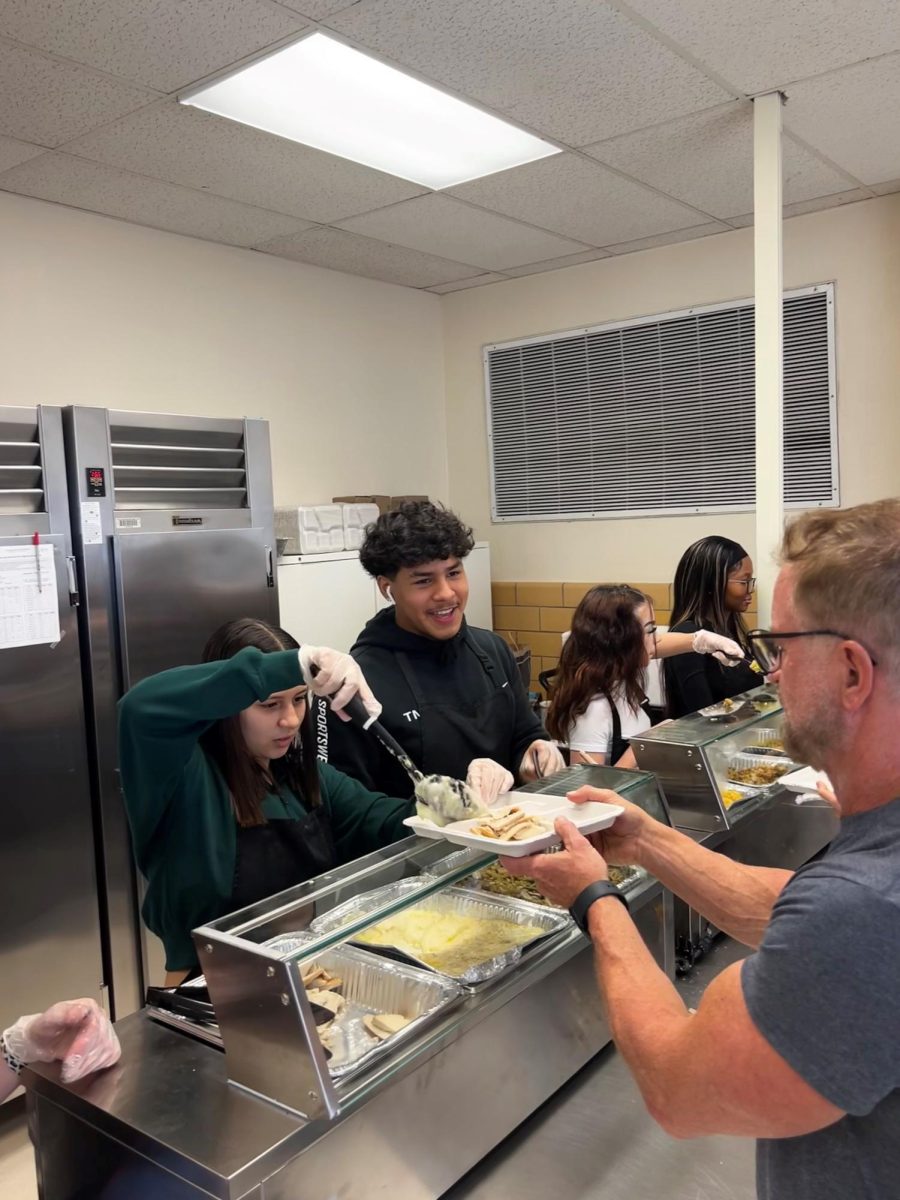 Our expressions of gratitude in 2023: Some teachers and students gave us their answers anonymously.
I am grateful to God for having my family well and I am grateful for my life and all the good things.
I am thankful for the experiences we share together as a family here at Mountain View High School. I think it is easy to take for granted the amazing staff and students we have in this building, and this time of year is a reminder to be thankful for this, and to celebrate this with others.
I'm thankful for all the knowledge I've gained in school and outside of school.
Being present in all things and thankful for everything.
Mr. Rob Everett, technology support specialist, also shared his gratitude: My Family; especially my wife Patti, that all of them are healthy, and that I get to work here at Mountain View HS.
Marvin Grijalva is a student who also shared his gratitude: I am grateful for the opportunities that Mountain View provides.
Ms.Bakula says: I am thankful that I have a job that is fulfilling, that my students are thriving, and that my family is healthy.
In 2023 we arrived at Mt. View High School without knowing each other. We love it very much because it gives us an opportunity to study as best friends and improve our English together. We are most thankful for teachers who care, classmates who are good friends, security who protects us every day, and our school leaders who guide us to success. – Payman, Hameed & Abdul.
Brandy says: This is my first week at Mt. View High School. I feel welcome here. Thank you for giving me this opportunity to study here. I am thankful for the opportunity to fulfill my dream of learning English and in my future becoming a systems engineer .
Jesus says: I thank God for giving me another day with health and life. I am thankful for these weeks here at Mt. View, to be in this country, to be able to work and move forward with the opportunity to be in this school and learn. I ask God to give me more strength to keep going and take care of my family.
Memories of Family. Love. Respect.
FCPS presented a video dedicated to the students, teachers, and staff that are a part of the Mountain View HS community for the Thanksgiving holiday. Thanksgiving is a day to give out gratitude to those we are thankful for and reflect on what we appreciate. At Mountain View, we view each other as a family, our motto is "Family, Love, Respect" which represents how we view each other at this school.