African Americans in WWII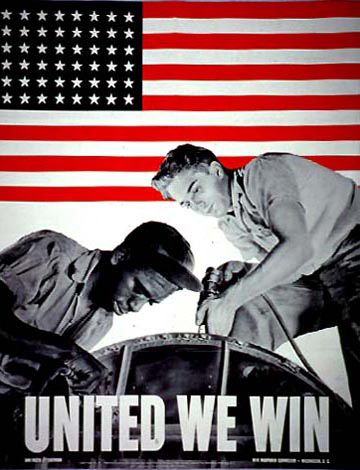 During World War II African Americans were separated from serving in the military with Whites. The African American men in the Armed Forces were placed in segregated units, lived in segregated housing, ate at segregated tables in the mess hall, and received segregated training from the white men. (1)  They were "Separate but equal" which was a strong policy at home in the US. The Army founded several African American fighters and bomber groups. One of the more famous groups called the "Tuskegee Airmen". Although African Americans supported their government during WWII, they did not remain silent about the racial practices in America. A higher percentage of African Americans were killed compared to the percentage of whites.  Most African Americans served in Non-Combat positions such as supplies or maintenance of Military equipment.
http://www.nps.gov/tuai/index.htm
A total of 708 African Americans were killed in combat during World War II. Their was 125,000 African Americans who were overseas in World War II. Some African American soldiers who had left farm jobs in the South decided not to return home. Instead they moved to cities looking for work that was similar to what they had learned in the Army. Within two decades after WWII the civil rights movement made progress and the African Americans finally achieved their full rights.
Related articles