Ahmed is traveling around the world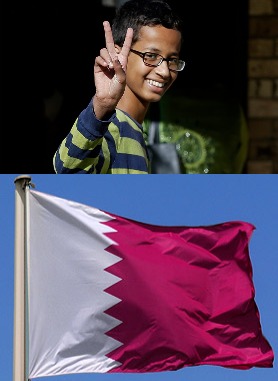 http://news.yahoo.com/congressman-praises-teen-arrested-over-homemade-clock-142552765.html?soc_src=mediacontentstory&soc_trk=ma
October 20, 2015 10:50 PM
Ahmed Mohamed's family released a statement saying they had accepted a foundation's offer to pay for his high school and college in Doha, Qatar
After visiting the White House as a part of the whirlwind month. His father said"We are going to move to a place where my kids can study and learn, and all of them being accepted by that country" saying that to Dallas morning news before boarding an airplane from Washington DC to Texas where they live.
Ahmed's family have been overwhelmed with all the offers that they got from many corporations, and even countries, but finally they ended up by accepting an offer from QatarFoundation for Education, Science and Community Development to join its Young Innovators Program. He will be receiving full scholarships for his under graduation education.
He have also visited the country of Sudan which is his home country. visiting the president of Sudan, Omar El-Bashir, who has prompted some criticism because El-Bashir is wanted by International Criminal Court on charges of genocide and war crimes associated with the Darfur fighting.