American Military Diplomacy ; Mission Accomplished? What is the future for Afghanistan?
The Longest War in U.S. History
I am 19 years old and I was born in Baghlan, Afghanistan in 2001.  The American military has been present in Afghanistan throughout my entire life.  From my experience I know that the Americans helped the Afghan military to hold back the threats of the Taliban.  As a young 6 year old boy the simple gesture of giving me a piece of candy by an American soldier left a lasting impression on my memory and understanding of their mission in my country.  They were a strong military presence but they were also a caring human presence on the streets of my hometown.  They traveled in a caravan of humvees and stopped to notice a small group of Afghan children playing nearby.  Maybe they missed their own families back home but they cared enough to stop and share some candy.  Little could I imagine at the time that 13 years later I would be a student living in the United  States and hoping for a better future for myself and my family. The mission of American Military was to bring peace by destroying the Taliban in Afghanistan. They tried but they failed, now every Afghan person has a different perspective about the American military.  Some Afghan people say that if America wants to destroy the Taliban, they can, but they do not want to. They may train the Afghan military by day, on the other hand they may help Taliban by supplying with weapons'. Some people say that American military helped Afghanistan by protecting its new government and now Afghanistan is much better than 15 years ago. Some people say that, it is nearly impossible to bring peace in Afghanistan no matter what you do,and one of the reasons is the Afghan nation is not united. The nation of Afghanistan has 4 ethnic groups; Tajik, Hazara, Uzbak, Pashton. They have a fighting history. They are racist towards each other. The Taliban speak Pashto and most of them are Pashton.  To my opinion Afghanistan will remain the same and there will be no bright future, as long as the hate exist among them.
The War in Afghanistan is an ongoing war following the  United States invasion of Afghanistan that began when the United States and its allies successfully drove the Taliban from power in order to deny Al-Qaeda a safe base of operations in Afghanistan. After the initial objectives were completed, a coalition of over 40 countries (including all NATO members) formed a security mission in the country called International Security Assistance Force (ISAF, succeeded by the Resolute Support Mission (RS) in 2014), of which certain members were involved in military combat allied with Afghanistan's government. The war has afterward mostly consisted of Taliban insurgents fighting against the Afghan Armed Forces and allied forces; the majority of ISAF/RS soldiers and personnel are American. The war is code-named by the U.S. as Operation Enduring Freedom (2001–14) and Operation Freedom's Sentinel (2015–present); it is the longest war in U.S. history.
As a little kid, I have never heard of 9/11 and U.S. military. The first time I heard about 9/11 was back in 2013 to 2014. At that time there were rumors that American military would withdrawal from Afghanistan. There were dreas Afghanistan will go back to 1999 and 2000, the Taliban will take back the Afghanistan. Everyone was asking: What is going to happen to the people of Afghanistan? Everyone was terrified, and I started to watch more News in order to get more information about American Invasion and 9/11. At this time I fully understand what happened on September 11, 2001. The most Taliban's leaders live free in Qatar, and they sentence orders that the women in Afghanistan must wear Hijab (cover the entire body), while their own wives and daughters walk around outside of Afghanistan half naked.How can they seek for a Islamic Republic in Afghanistan while they live a lie?. You can see important information below.
Terrorists Strike the United States, September 11, 2001
Al-Qaeda operatives hijack four commercial airliners, crashing them into the World Trade Center in New York and the Pentagon in Washington, DC. A fourth plane crashes in a field in Shanksville, Pennsylvania. Close to three thousand people die in the attacks. Although Afghanistan is the base for al-Qaeda, none of the nineteen hijackers are Afghan nationals. Mohammed Atta, an Egyptian, led the group, and fifteen of the hijackers originated from Saudi Arabia. President George W. Bush vows to "win the war against terrorism," and later zeros in on al-Qaeda and Osama bin Laden in Afghanistan. Bush eventually calls on the Taliban regime to "deliver to the United States authorities all the leaders of al-Qaeda who hide in your land," or share in their fate.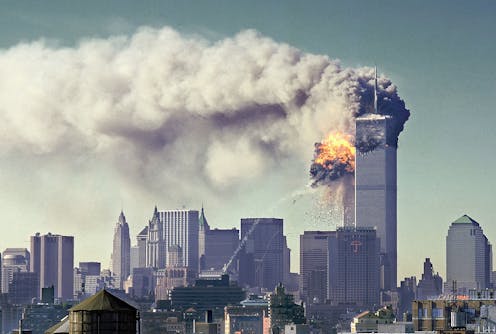 Original Source: 1. LINK, 2. LINK
A War Footing, September 18, 2001

President George W. Bush signs into law a joint resolution authorizing the use of force against those responsible for attacking the United States on 9/11. This joint resolution will later be cited by the Bush administration as legal rationale for its decision to take sweeping measures to combat terrorism, from invading Afghanistan, to eavesdropping on U.S. citizens without a court order, to standing up the detention camp at Guantanamo Bay, Cuba.
The Opening Salvo, October 7, 2001
The U.S. military, with British support, begins a bombing campaign against Taliban forces, officially launching Operation Enduring Freedom. Canada, Australia, Germany, and France pledge future support. The war's early phase [PDF] mainly involves U.S. air strikes on al-Qaeda and Taliban forces that are assisted by a partnership of about one thousand U.S. special forces, the Northern Alliance, and ethnic Pashtun anti-Taliban forces. The first wave of conventional ground forces arrives twelve days later. Most of the ground combat is between the Taliban and its Afghan opponents.
The Taliban in Retreat, November 2001
The Taliban regime unravels rapidly after its loss at Mazar-e-Sharif on November 9, 2001, to forces loyal to Abdul Rashid Dostum, an ethnic Uzbek military leader. Over the next week Taliban strongholds crumble after coalition and Northern Alliance offensives on Taloqan (11/11), Bamiyan (11/11), Herat (11/12), Kabul (11/13), and Jalalabad (11/14). On November 14, 2001, the UN Security Council passes Resolution 1378, calling for a "central role" for the United Nations in establishing a transitional administration and inviting member states to send peacekeeping forces to promote stability and aid delivery.
Bin Laden Escapes, December 2001
After tracking al-Qaeda leader Osama bin Laden to the well-equipped Tora Bora cave complex southeast of Kabul, Afghan militias engage in a fierce two-week battle (December 3 to 17) with al-Qaeda militants. It results in a few hundred deaths and the eventual escape of bin Laden, who is thought to have left for Pakistan on horseback on December 16—just a day before Afghan forces capture twenty of his remaining men. Despite intelligence pointing to bin Laden's presence in Tora Bora, U.S. forces do not lead the assault, which is carried out by a ragtag Afghan contingent led by Hazrat Ali, Haji Zaman, and Haji Zahir. Some critics will later question why U.S. forces did not take a more assertive role in the engagement.
An Interim Government, December 5, 2001
After the fall of Kabul in November 2001, the United Nations invites major Afghan factions, most prominently the Northern Alliance and a group led by the former king (but not the Taliban), to a conference in Bonn, Germany. On December 5, 2001, the factions sign the Bonn Agreement, endorsed by UN Security Council Resolution 1383. The agreement, reportedly reached with substantial Iranian diplomatic help because of Iran's support for the Northern Alliance faction, installs Hamid Karzai as interim administration head, and creates an international peacekeeping force to maintain security in Kabul. The Bonn Agreement is followed by UN Security Council Resolution 1386 on December 20, which establishes the International Security Assistance Force, or ISAF.
U.S., Taliban Sign Deal on Path to Peace, February 29, 2020
U.S. envoy Khalilzad and the Taliban's Baradar sign an agreement [PDF] that paves the way for a significant drawdown of U.S. troops in Afghanistan and includes guarantees from the Taliban that the country will not be used for terrorist activities. The deal says intra-Afghan negotiations should begin the following month, but Afghan President Ghani says the Taliban must meet his government's own conditions before it enters talks. The U.S.-Taliban deal doesn't call for an immediate cease-fire, and in the days after its signing, Taliban fighters carry out dozens of attacks on Afghan security forces. U.S. forces respond with an air strike against the Taliban in the southern province of Helmand.
Intra-Afghan Peace Talks Begin, September 12, 2020
Representatives of the Taliban and of the Afghan government and civil society meet face to face for the first time in Doha, Qatar, after nearly twenty years of war. The direct negotiations, which were delayed for months over a prisoner swap proposed in the earlier U.S.-Taliban deal, begin after the Afghan government completes the release of five thousand Taliban prisoners. During opening remarks, both sides express eagerness to bring peace to Afghanistan and establish a framework for Afghan society after U.S. troops withdraw. The government pushes for a cease-fire, while the Taliban reiterates its call for the country to be governed through an Islamic system.
U.S. Announces Troop Withdrawal, November 17, 2020
Acting U.S. Defense Secretary Christopher C. Miller announces plans to halve the number of troops in Afghanistan to 2,500 by mid-January, days before President-Elect Joe Biden will be inaugurated. Thousands of troops had already been pulled out following an agreement with the Taliban in February, moving closer to fulfilling President Trump's campaign promise to end the so-called forever wars. The announcement comes as negotiations between the Afghan government and the Taliban are deadlocked and the militant group continues to launch deadly attacks. NATO Secretary-General Jens Stoltenberg warns that withdrawing troops too early could allow Afghanistan to become a haven for terrorists and the Islamic State to rebuild its caliphate.
Biden Decides on Complete U.S. Withdrawal by 9/11, April 14, 2021
President Biden announces that the United States will not meet the deadline set under the U.S.-Taliban agreement to withdraw all troops by May 1 and instead releases a plan for a full withdrawal by September 11, 2021. "It's time to end America's longest war," he says. The remaining 3,500 troops in Afghanistan will be withdrawn regardless of whether progress is made in intra-Afghan peace talks or the Taliban reduces its attacks on Afghan security forces and citizens. NATO troops in Afghanistan will also leave. Biden says Washington will continue to assist Afghan security forces and support the peace process. The Taliban says it will not participate in "any conference" on Afghanistan's future until all foreign troops leave.
For more Information please click on the link: LINK
The meeting of two Presidents (Ashraf Ghani and Joe Biden), June 25, 2021
Afghanistan's President Ashraf Ghani arrives in Washington this week amid increasing reports of Taliban gains on the ground in Afghanistan and of sagging morale among Afghan security forces and citizens who are not aligned with the Taliban. It is crucial that Ghani's visit produces concrete and convincing evidence of continuing U.S. support for the Afghan government and security forces. Such signals are urgently needed to counter the building fear and momentum in favor of the Taliban. Ghani and fellow anti-Taliban Afghans also have yet to unite in a coherent front to counter the Taliban's moves. Managing this situation is a serious test for U.S. diplomacy. President Biden's April 14 announcementof U.S. troop withdrawal promised continued U.S. diplomacy in support of finding peace as well as ongoing assistance for Afghanistan's government and national defense and security forces.  One very important manifestation of this concern in the United States is the desire to protect Afghans who worked for the U.S. government from Taliban retribution. Several Congressional bills have been introduced to improve the slow and complex Special Immigrant Visa (SIV) process, which is designed to help such former U.S. government employees come to the United States. Advocacy groups are calling loudly for more urgent actions including evacuation to third countries of the tens of thousands of Afghan former U.S. employees and their family members. With the ongoing loss of Afghan districts to the Taliban,the calls for more rapid and radical means to get endangered Afghans out are gaining more support.  Latest news reports indicate the United States is preparing a plan to evacuate some endangered Afghans to a third country where they can safely be processed for a visa. It is unclear what numbers are being considered, where they would be taken, and who will be included and excluded. Very unfortunately, Afghans not eligible for the SIV process include those Afghans who have championed women's rights, democracy, press freedom, rule of law and related themes during the years of the U.S. presence in Afghanistan. They have been targeted for assassinations in recent months and have good reason to fear should the Taliban return to power.International humanitarian organizations are also making contingency plans for dealing with expanded flows of internally displaced and refugee Afghans should the situation continue to deteriorate. A great deal thus rests on the signals coming out of Ghani's one day visit to Washington.  The challenges and the potential costs of mismanaging the U.S. troop withdrawal remain immense for Afghanistan and for U.S. credibility.
Original Source: LINK
Afghanistan is not a safe country, if you go to work there is no hope for coming back home alive. Anytime anywhere could an explosion happen. America should help those Afghans who worked for the U.S. government from Taliban retribution. Most of them lost their loved once in this way, they faced many threats from Taliban and even their neighbors. Joe Biden made it clear that the Afghanistan's fate will now be in hands of it's people. Afghans will now have to decide their future, what they want. To my opinion, the Civil war continues and the people will continue  to refuge to other countries, like the end of 2015. The SIV (Special Immigrant Visa)project is a very good way to help those Afghans who worked for American, but I hope they can be all eligible for this project. No one can guarantee their lives in Afghanistan.
About the Author : LINK
Leave a Comment