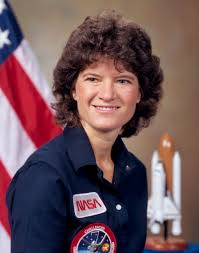 Sally Ride was the first American lady to fly in space.  How was a woman born in 1951 able to become a rocket scientist and successful astronaut?  The answer is found in studying the Cold War funding of NASA in the 1950s Space Race and the new career opportunities available through the women's civil rights movement of the 1970s.
Sally was an excellent student and she played tennis, volleyball and softball in school.  She was a great athlete and wanted to pursue a career in professional tennis in college.  After realizing that she would not be able to play at the pro level she set her sights on studying science and math.  By the age of 27 she had her Masters degree from Stanford University and was preparing for her PHD in astrophysics.  NASA started searching for lady space explorers in 1977. Sally Ride was an understudy at the time. She saw an advertisement in the Stanford school daily paper welcoming all qualified candidates to apply to the space explorer project. Sally Ride chose to apply for the occupation. She was one of six ladies to be chosen.  Over 8,000 candidates applied and 35 were accepted- mostly men.
Later in her career Ride composed science books for youngsters. The books are about analyzing space. She became an inspiration to young people, especially young women because she is a very great role model and she keeps hope in women and kept them believing that even if they are women they could still do anything in this world and its not impossible. Her books are written about her experiences.
Sally Ride left a great strong mark in this world, she was a young clever women that never gave up. She is remembered for her amazing history, stories, experience's that she went through. I think after Sally Ride's missions to space, its possible for a woman to do whatever she believes is the right choice for her and her future, just as Sally did.
http://www.nasa.gov/audience/forstudents/k-4/stories/nasa-knows/who-was-sally-ride-k4.html
http://www.lucidcafe.com/library/96may/ride.html
http://history.nasa.gov/factsheet.htm