Another School Tragedy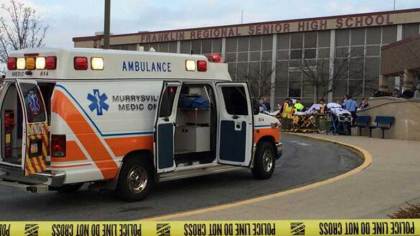 A school stabbing occurred at Franklin Regional High School in Murrsyville, Pennsylvania early in the day on Wednesday, April 9th. The 16 year-old sophomore boy who committed this violent act was seen flashing two knives, and targeting students in a number of classrooms and the hallways. The fire alarm was pulled in order to get the students to evacuate the building , who were then transported to the local middle school where they were placed under lockdown. Students claim to have seen blood all over the floors of the hallways while frantically exiting the building.
"The fire alarm went off, I was walking over towards the exit, and there was blood all over the floor. I thought someone had a nose bleed, or something, until someone yelled that a girl got stabbed."  –  Zackery Amsler, a student at Franklin Regional
Some students were unaware that they had even been stabbed due to the state of panic they were in.
"They just felt pain and noticed they were bleeding. Almost all of them said they didn't see anyone coming at them," Dr. Timothy VanFleet, chief of emergency medicine at University of Pittsburgh Medical Center
In attempt to stop the bleeding of a male victim, one female student applied pressure to the boy's wound until he was taken into surgery at Forbes. Over a number of 20 people were victims of the school stabbing. Of those people, 22 people were taken to the hospital, and three of those 22 were admitted into surgery. Franklin Regional High School will remain closed for several days while things are put back in order.
People are shocked at the number of school tragedies that have taken place over the course of the past few years, and are beginning to question the safety of their schools. How should this problem be solved? Should metal detectors be installed at entrances and exits of the buildings? Should more school officers be placed on duty at the schools during the day? Should regulations on what is allowed to be carried into school be reevaluated? It is likely that at least one of these ideas will be implemented, and possibly even all of them.
http://www.cnn.com/2014/04/09/justice/pennsylvania-school-stabbing/index.html?hpt=us_c1