Answering the Silent Cries of a Bloodied Syrian Boy
This a story is about a Syrian boy that was hit by a bomb while he was in his home.
On August 22, 2016 TV anchors reporting on the tragedies of war do so with professionalism, however devastating the news may be. But sometimes a story is so moving that it can be hard for even the most professional of journalists to remain composed. CNN anchor Kate Bolduan struggled to hold back tears Thursday while reporting an update on Omran Daqeesh, a 5-year-old boy who was filmed and photographed moments after being pulled from his destroyed home in the aftermath of an airstrike on Aleppo, northern Syria.
http://www.huffingtonpost.com/entry/cnn-kate-bolduan-tears-syrian-boy_us_57b66abee4b03d51368789b9?utm_hp_ref=cnn
http://www.cbsnews.com/news/syrian-children-becoming-the-face-of-bloody-civil-war/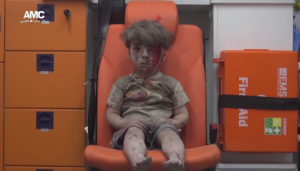 "He's inside his home one moment and the next he's lost in the fury of war and chaos."
On some news you cannot hide the truth even if it is so hard.  I understand sometimes there are many news stories with inappropriate pictures or videos. But if these videos or images show the truth then the hard truth needs to be seen.
The situation in Syria is so sad because people are not protected even in their own homes. Sometimes we complain for little things like: why I don't  have enough money? or why don't I have that car? but images and stories like this help us to gain a sense of appreciation for what we do have.
Does America appreciate what it has today?  Will our next President lead America in a direction that helps us to help others and to bring stability to places like Syria?  How can American citizens act to help?
The Obama White House has created a website for American citizens to act in helping the refugees that come to our country.  Our government relies on local organizations and volunteers like you and me to help bring the promise of human rights to these refugees.  If you go to the link below and type your zip code you can find the nearest refugee help center near you.
https://www.whitehouse.gov/aidrefugees
Hillary Clinton on the issue of Syria:
 Hillary Clinton will order a "full review" of the United States' strategy on Syria as a "first key task" of her presidency, resetting the policy to emphasise the "murderous" nature of the Assad regime, foreign policy adviser with her campaign has said.

http://www.telegraph.co.uk/news/2016/07/29/hillary-clinton-will-reset-syria-policy-against-murderous-assad/
Donald Trump on the issue of Syrian refugees coming to the United States: