Appomattox Court House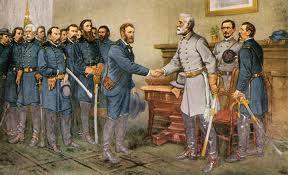 On April 9, 1865, Confederate General Robert E. Lee surrendered his approximately 28,000 troops to Union General Ulysses S. Grant in the front parlor of Wilmer McLean's home near Appomattox Court House, Virginia, effectively ending the American Civil War. Richmond fell to Union troops as Robert E. Lee led his Army of Northern Virginia in retreat to the West pursued by Grant and the Army of the Potomac.
http://www.civilwar.org/battlefields/appomattox-courthouse.html
Why didn't the civil war end with a treaty?
It ended with letter instead of treaty because Robert E. Lee signed the declaration of formal surrender to Ulysses S. Grant On April 9, 1865.  If it was treaty, then the South would be viewed as its own nation, but the North didn't want to do that instead they wanted reunited to one country as soon as possible.
How did both sides feel about end of the war?
I think the  South was afraid of losing the war because they don't want to give up slavery because it was important to their economy and they knew they will lost slavery if they lose the war. Both sides were tired of losing lives.
This picture shows that leaders on both side had respect for each other