Are schools safe?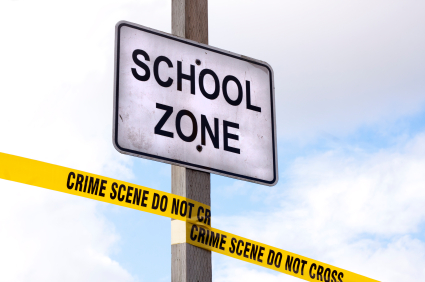 Through out the past decades we've seen a growing violence taking place in school environments, throughout the United States. Just about every other month we hear about shooting in school from elementary schools and even in colleges and universities. Violence can happen just about anywhere you go and schools are unfortunately no exception.  As a student, I ask my self how safe are we?
Currently we are following a developing story.  A teenage boy went on a stabbing spree at his high school in  Murrysville, Pennsylvania.  Apparently 20 high school students are injured. The unknown suspect is now in custody but police isn't giving any information of where they are taking him.
The violence happened in classrooms and a hallway, said Dan Stevens, a spokesman for Westmoreland County Emergency Management. 
The teens injured are in serious condition.  Three of them have life treating conditions.  The 16-year-old suspect is also being treated for minor injury to his hand. The school assistant principal tackled the suspect with the help of the SRO and they were able to handcuff him.
So are we safe? The question has been bounced around the media and communities, looking to find an end to this growing violence taking place in our schools. As students we shouldn't have to worry about being in danger. We can't control what people do with knifes and guns but I believe we can help those who are going thtough depression and anxiety. The government can help us with security and surveillance, but its our job as human to stay connected and help one another when we are in the time of need for help and support. It is the citizens' job as brothers and sisters to look out for one another and feel safe and united.  Government policy is not going to solve this problem but increased individual awareness will help those who need it.
For more information on the developing story please visit the link below
 http://www.cnn.com/2014/04/09/justice/pennsylvania-school-stabbing/index.html?hpt=hp_t1   
For more information on school violence follow the link below
http://www.cnn.com/2013/09/19/us/u-s-school-violence-fast-facts/index.html?iid=article_sidebar