Asian Doctors were taking "surgery selfies" in the Operating Room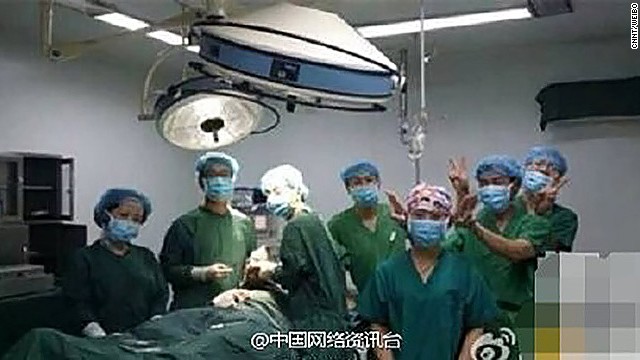 On December 21, a group of photos was posted on Weibo, a Chinese Social Media, showed that  doctors at a hospital in Xi'an, China were taking selfies next to operating table and making poses and v Signs while the patient is still on the operation table. The text description was: "As a medical professional, I want to say no wonder the relationship between doctors and patients is so tense. Just what are you doing during surgery?" These group of photos received a lot of criticism. The Weibo users posting the photos to the media to strike for the doctors bad action, and as a media professional himself he was  not willing to release the name of the hospital. Late on, he had deleted the post.
On December 22, Xi'an Hospital had explained that the photos were taken on August 15th during a long and difficult  7 hour surgery without break involving a 4o years old worker who had suffered a serious injury to his leg. In the end, the patient's left leg was saved and everyone was happy, so they took the photos to capture the moment in the operating room. Also, it was the last operation in this operating room, and they wanted a picture for memory. The Xi'an Health Department decided to fire some of the doctors and they are withholding the bonuses or wages for three months to prevent similar incidents from happening again. It's important to point out that the Patient Bai Wenhai let the doctors take the picture since they worked so hard to save his leg, and he's surprised that the doctors got so much criticism.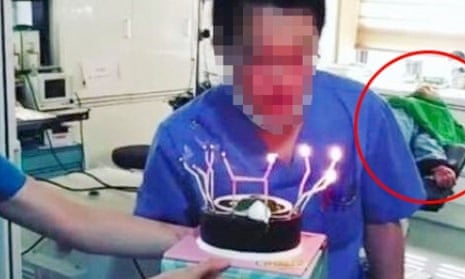 The images were posted on Instagram by a member of staff at the clinic of Gangnam, South Korean. In this photo, a man dressed in a blue medical uniform is blowing out the birthday cake candles while a patient still lying on a bed behind them. The photo quickly spead throughout the internet, and it was taken down later because of the criticism. The clinic apologized for the careless action and asked for forgiveness.  The Gangnam's Department of Health is investigating whether or not the clinic was violating any of medical laws.
I think medical staff should not be allowed to use personal cellphone in the operation room whether the operation is already over or not. The purpose of operation is to improve the quality of patient's life, and the medical staff should take it seriously. Instead, they are putting the patient's life in danger. Although both cases are a little bit different, I think medical staff taking selfies is disrespectful to the patients and it also is an unprofessional act.
http://www.theguardian.com/world/2014/dec/29/south-korean-cosmetic-surgery-clinic-staff-party-operating-theatre
http://www.cnn.com/2014/12/23/world/asia/china-doctor-selfies/