Baseball's First African American Player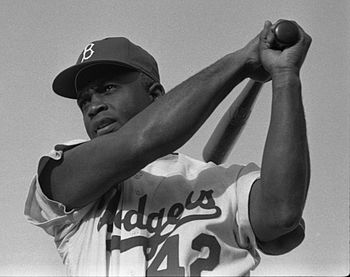 Baseball has been around since the 19th century, but no one knows who the creator of baseball is. The first baseball team was the New York Knickerbockers. They were formed in September of 1845 by Alexander Cartwright. The rules for baseball today are based off of the "Knickerbocker Rules" used by the club. During the Civil War baseball clubs grew. By 1846 there were over 100 baseballs clubs and over 400 clubs by 1867.
http://www.baseball-reference.com/bullpen/History_of_baseball_in_the_United_States
Jackie Robinson, the first African American baseball player in the Major Leagues, was born in
January of 1919 in Cairo, Georgia. Jackie was in the Army until 1944, when he joined a segregated baseball league. In 1946 Branch Rickey, president of the Brooklyn Dodgers, selected Jackie to be the first African American to segregate the Major Leagues. Jackie moved from his home to Florida to begin practice with the Montreal Royals in Florida.
During this time he endured slurs and threats, especially at away games. Jackie's will was tested throughout his entire career, but mainly in the beginning. Many of his teammates did not want him to join and would call him names and try and hit him to get him to quit. Although at times Jackie wanted to fight back, he never did. In 1947 Jackie Robinson was officially signed to the Brooklyn Dodgers.
Throughout his career Jackie Robinson stole home 19 times and was entered into the baseball hall of fame in 1962. In 1955 he helped the Dodgers win the World Series against the Yankees. Shortly after that we was traded to the New York Giants and then in 1957 he retired from baseball with a batting average of .311. The number 42 has been retired from all baseball teams and at every stadium they have the number hanging up to commemorate him and his achievements.
He became a huge voice for ending segregation. In 1952 Jackie called out the Yankees for not segregating their team yet after 5 years of him signing with the Dodgers. After he retired he was on the board of the NAACP and continued to be a voice for the Civil Rights movement.
Today the Jackie Robinson Foundation sponsors scholarships for disadvantaged students attending college.  To find out more about the Jackie Robinson Foundation CLICK HERE: https://www.jackierobinson.org/
Jackie died in 1972 from a heart attack. He will forever be remembered as one of the best baseball players ever seen.