Vicepresidente de EE.UU. felicita a Moralesthe
On October 26th the Vice President Of USA ,Joe Biden called the new president of Guatemala Jimmy Morales to congratulate for winning the election to be a President.  Biden told him that USA will support Guatemala.The U.S. vice president showed  the importance of alliance to restore the order, fight against the corruption, and promote the prosperity of the Guatemalan people. They affirmed a strong relationship and they will keep in contact. Other important people from other countries like Presidents, ministers and congressmen called to Morales to congratulate him.  Morales who will take possession of the office in January 14 of the next year.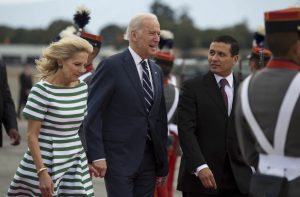 I am so glad to see the support of many countries who want to make peace for everyone. However,  it is the same routine always when the presidents win the election. They promise a hundred things like disappearing the violence, creating more jobs, helping poor people, and a lot more. It is only a fantasy because people are suffering a lot in the real life.
The new president of Guatemala must work hard for his country, for his people, for his family and not steel everything like the last President.  Former President Molina is in jail now because he was stealing money from the people; including children who were suffering a lot without a place to live and without food.   The government of Guatemala and other countries have to make sure to fairly enforce the laws for a better life.  Honesty and trust should begin with the government; this is true not only for Guatemala  but for all countries in the world.
http://www.prensalibre.com/guatemala/decision-libre-2015/vicepresidente-de-eeuu-felicita-a-morales