Bon Chon Chicken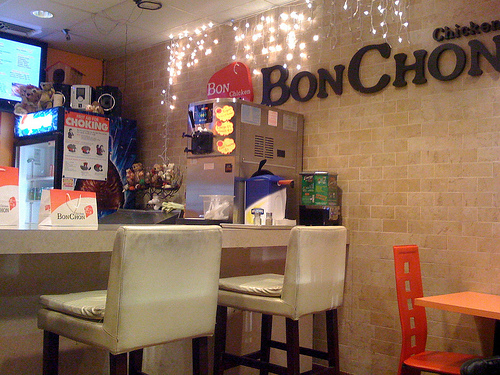 There are not many Bon Chon restaurants in Virginia.
Luckily, there is one in Centreville.
Bon Chon is fantastic. It is sort of pricey but by far worth it. I usually get the spicy wings, which they are famous for, Seasoned fries, or the Ramen. All of them are amazing.
Your taste buds are going to explode. I believe that Bon Chon is addicting. Eat it enough times and you will never want to stop ordering.
The restaurant itself is beautiful. It has an upbeat environment, is very colorful, and has good vibes.
It is a Chinese style of restaurant. Although I haven't gotten everything on the menu, believe me I am trying. The only thing in my way is cash. If you want something new for dinner that is very filling. Try Bon Chon, I promise your family won't regret it.