Chicken Products Recalled.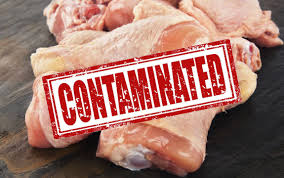 As of April 26th the Pilgrims Pride poultry company is recalling over 4.5 million products of fully cooked chicken. The chicken products may be contaminated with "extraneous materials." The USDA said  the "materials include wood, plastic, metal, rubber." The full completed list of all the recall products are on the USDA website..
The Waco Texas company shipped the products to grocery stores and institutions such as schools, nationwide. The USDA released a statement saying it is unclear how the "extraneous materials" got into the chicken products. The company found out about the issue after customers started to complain about finding plastic in their nuggets. The USDA's Food Safety inspection service found out that more chicken products were contaminated. Luckily there has been no confirmation that there has been a health issue because of the  product recall.
Here are some important questions to consider when reading this story:
Should there be punishment if there is actual evidence of harm to a citizen's health as a result?  
What is the best form of punishment for this type of negligence?
How does the government work to protect citizen health and safety in this way?
How difficult is it to inspect all food before it goes to market? 
So if any consumers have the product if your fridge or freezer you are advised to throw away the product. EAT AT YOUR OWN RISK.
"If you have other questions, call the company at (800) 321-1470 or the USDA's meat and poultry hot line at (888) 674-6854. The USDA's "Ask Karen," a virtual representative, is also available to answer food safety questions 24 hours a day at AskKaren.gov."