Cristiano Ronaldo wins for the fourth time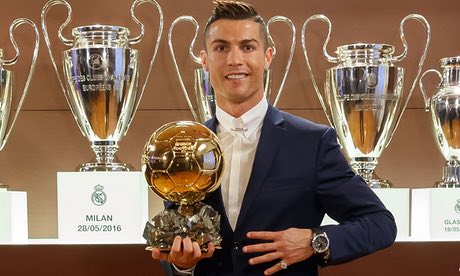 Cristiano Ronaldo won his fourth Ballon d'Or.  Two years had to pass since he got the last award. Every year this trophy is given to the best soccer player. This year the three nominees were Lionel Messi, Antoine Griezmann, and Cristiano Ronaldo. Cristiano Ronaldo and Lionel Messi  for the last couple years have a  rivalry to find who is the best player. This year the waiting is over with the result of Ronaldo beating Messi. The requirements to win this trophy are have a good perfume in the team and individual.  Cristiano proved that he deserved this trophy because he won the Champion league and the Euro Copa with his national team Portugal. Furthermore, he scored 56 goals this years in all the competitions that he participated. This award had been  part of the FIFA with collaboration of one franc magazine  but this year just the magazine gave the trophy. Now, FIFA  is going to give another award called "the best". That is in January. Ronaldo is participate in this award too. So its going to be another thug competition. But I think he wants this trophy as well.
Cristiano Ronaldo is one the better player in soccer. But he always work hard to get his goals. Every year he try to be even better than the last season. Ronaldo has now four award in this category, he is only surpassed by Lionel Messi that has five trophies. Since, 2009 they are the only winners in this competition.Many years ago he lost the Euro Copa with his national team, Portugal. This year he had the opportunity to take revenge when he won the Euro Copa. Although, in this final he only could play 20 minutes because he got an injury that did not let him play. But his playmates made an excellent game against France. Furthermore, he won the champion league with his team Real Madrid that beats Atletico de Madrid. In the final he scored the goal of the victory in the penalties.  Ronaldo is really a great athlete because he is very competitive not  matter who is in front of him. That's why I have admiration for this player because he never gives up and always gives his best.
http://www.telegraph.co.uk/football/2016/12/12/ballon-dor-2016-live-updates-cristiano-ronaldo-leo-messi-go/