Destroy All Cars: Review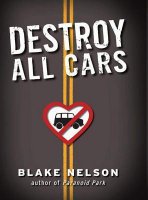 Seventeen-year-old James Hoff is the world's biggest pessimist. He doesn't believe that all this "green" action is really going to do any good that humans "have ravaged the planet with our insane lust and greed, everywhere leaving behind horrendous pollution, toxic waste, and lethal contamination" and we are all destined to die slow, agonizing deaths from SUV carbon monoxide poisoning. The point of view of this sarcastic character is the heart of Destroy All Cars by Blake Nelson So what's a guy like him doing with an idealistic girl like Sadie Kinnell? Nothing, because political differences finally led to their break-up at the end of sophomore year. But no matter how hard he tries to convince himself otherwise through the writing of heated English assignment manifestos that his teacher Mr. Cogweiller has no idea what to do with, James is still in love with Sadie.  And as he grapples with what to do about the Sadie situation, how to call off his eighth grade sister's weird best friend and whether or not he should accept his corporate dad's offer of an evil, pollution-spewing car ("I just don't want one. I don't want to put gas in it, I don't want to insure it, I don't want to park it, I don't want to look at it. If I am the first teenager in the world to refuse a car, so be it."), a funny thing happens. James grows a conscience and suddenly Sadie's point of view starts making a lot more sense. But is it too late for this gloomy Gus to turn over a new (green) leaf? Angry meditation on the sad state of the environment, Destroy All Cars is one teen's timely, comic take on love, life and ecology.
I would like political people to read this funny story. I can assure you people would love a laugh about this kid, James Hoffman, the kid who is the biggest pessimist I ever heard of. The book surely explains a point of view of how things work and how the hatred James gives is very funny. READ THIS BOOK!