Victory with the Drop of 2 Atomic Bombs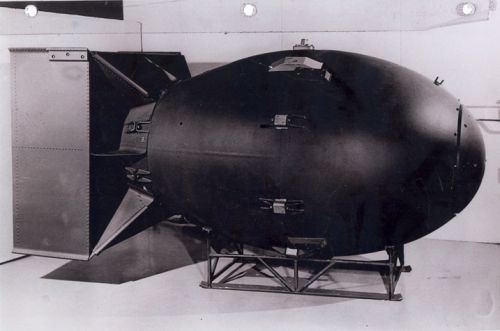 World War II (1939-1945) U.S. President Franklin D. Roosevelt died.  He was at the beginning of his 4th term as President on April 12, 1945 and the war was not yet over. His death impacted the nation. Truman succeeded to the presidency on April 12, 1945. Vice-President Truman is pictured below with President F. D.R.
President Truman`s strategy was to defeat Hitler first and then Japan. After defeating Hitler with the help of Russia in the Spring of 1945, America invasions of the island of Iwo Jima and Okinawa brought American forces closer than ever to Japan. Truman warned Japan to give up and surrender, but Japanese leader Hideki Tojo refused to give up. Truman's alternatives were to fight a land battle and lose many more soldiers or end the war quickly with the "manhattan project" atomic bomb.  He decided to drop the atomic bomb on the Japanese city of Hiroshima in August 1945.
A cloud rose over the city of Hiroshima on August 7, 1945, killing 70,000 Japanese citizens. Even though the first bomb was dropped, Hideki, Tojo refused to give up. Then two days later the second bomb was dropped on the city of Nagasaki which killed at least 80,000 Japanese citizens. After this Japan didn't have another choice than surrender. The Allies successfully concluded World War II in August 1945 on what became know as "V-J Day".
http://www.ushistory.org/us/51g.asp