Ebola in the U.S.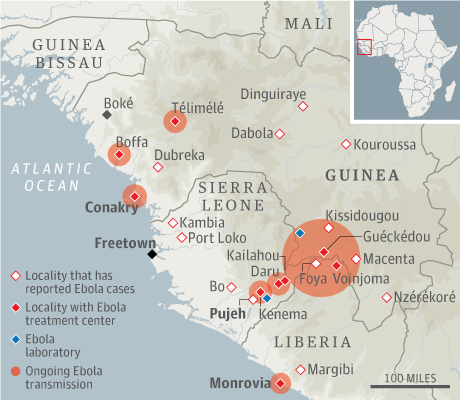 Since early February 2014,an outbreak of the Ebola spread across west Africa from Guinea, Monrovia, and then Liberia. Scientists said the possible cause the Ebola outbreak might be the bush meat of Chimpanzees, gorillas, fruit bats, monkeys, forest antelope and porcupines that people had eaten. It very difficult to raise demotic animals in western Africa, and people had eaten these bush meat every single day. 

Liberia government had banned bush meat, but people can still buy them so early. The victim who had infection of the Ebola will have fever, sore throat, muscle pain, and headaches. And then, vomiting, diarrhea, and rash follow, along with decreased function of the liver and kidneys. Unfortunately, people may begin to bleed out from inside of the body.


Unfortunately, the deadly virus had come to the U.S. by Thomas Eric Duncan. Duncan is a 42-year-old Liberian citizen came to U.S. to visit his family, but he had lied to answer the health questions about whether he had being with a Ebola patient. According the News, witnesses say Duncan had shared a room with the Ebola patient in Liberia. Also, he helped and carried the Ebola patient, which a pregnant woman to the hospital at a residence in Paynesville City, just outside Monrovia. Sadly, there wasn't enough space for Ebola treatment in the hospital, so the hospital turned her away. Then, She died from the Ebola virus. 

After 10 p.m. Thursday, September 25, Duncan first visit the Texas Health Presbyterian of Dallas because he had a fever and vomiting.The hospital said he had a "low-grade fever and abdominal pain." Duncan had mention that he had travel from Africa, but the nurse had gave him antibiotics and a pain reliever and sent him home. I think it is very scary that the hospital's error that released the man with Ebola infection in Texas. NOW, we knew that he had infected many others. Also, I wonder why and how the government qualified an unemployed, unmarried vagrant Thomas Duncan for a U.S. visa so easily to visit his family in this country. We all concern our life, but our life is now treating and might be taking away by the deadly disease.   

May he rest in peace but should others like Thomas Eric Duncan face criminal charges if they knowingly bring the deadly virus to the U.S.?
 
http://www.cnn.com/2014/10/01/health/us-ebola-patient/index.html