Education Creates Good Citizens; A Dialogue With Our Legislator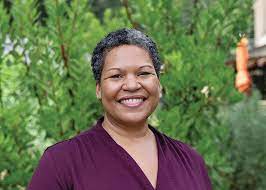 Government could be theoretically defined as a relationship of power and authority.  The specific practical definition is more precise in saying that a government is a state with boundaries, an organization of independent  power through laws, and a defined population of citizens.  Government occurs on many levels of human community and human experience. Government is global; for example the United Nations is a form of global government.  Government is National; for example we have a national Constitution that sets up three branches of power with a citizens bill of rights. States are forms of governments because each one has their own rules and three branches of power.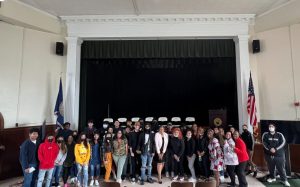 On Thursday Apr 21, 2022 Virginia State Delegate Michelle Maldonado (D) visited the students at Mountain View High school in Centreville Va.  She spoke about making laws at the state level and most of all about listening to the students. This was a town hall meeting for young people.  She spoke to other students from the Fairfax County alternative  schools who were linked into the audience virtually. Her presence alone gave people a good vibe and a sense of hope because she spoke from her own experiences. She spoke with a willingness to understand. As she spoke she listened to student questions and as she spoke she relayed experiences to help the students relate to their own potential to be successful and to lead others.
As students gathered they welcomed the Virginia delegate who is one of 100 delegates in the Virginia General Assembly. Students heard about the cultural experiences and the personal motivations of Delegate Maldonado who represents a neighboring district but is very interested in engaging with young people in school settings.  She spoke from the perspective of a granddaughter and daughter of educators and military service members.  She spoke about a long succession of progress and growth over generations.  We all have opportunities created for us by those who came before us and we have the potential to create opportunities for those who come after us. She spoke directly about sensitive topics sexual orientation, immigration, Juvenile Justice, and critical race theory.      
Mountain View Student Tarek A,
I talked with Virginia delegate Maldonado and I went to tell her what I felt.                          Because of the political situation in my home country, I can't talk about the government. Even here in the US I do not go deep in political topics. But when my teacher Mr. Hardy told me that you would introduce the Virginia delegate " even if it was just two sentences." But I felt that I have a voice and someone will hear me.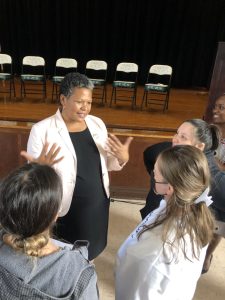 Mountain View Student Kimberly P,
 I felt like Michelle Maldonado left here impacting some of the students' life/ vision. For example she really made me feel like there is hope for graduation, she gave me a feeling of coming together and helping each other and being the best version of myself for my family, for my kids.
There was a feeling of equality and belonging because;
She told a personal story that allowed us to connect.

Her body language demonstrated that she was in the conversation.

She encouraged students and gave really good advice. 
We saw the delegate personally welcoming students as they walked from class to the auditorium.  She sat with a panel of students and teachers on stage.  We saw the delegate listening to students and encouraging students. We saw the delegate stay past her time at the end just to follow up with students on a personal level, hear questions they didn't have the opportunity to ask and pose for photos with different groups of students.
Mountain View Student Angie Turcios, 
When delegate Michelle Maldonado came to visit Mountain View and I walked into the auditorium the first thing I noticed was how happy she looked to be here. She looked thrilled and I felt like her good energy bounced around the room, making others feel welcomed.
Mountain View Student Cristina Lewis,
I think that she is an example that if we want to improve ourselves we must fight for what we want and ever though other people have another ideology we must respect another culture since that is the basis to be able to progress in society.
Each of the 50 states has its own Constitution and Capitol building.  Each of the 50 states has its own government with three branches of power; the legislative, executive and judicial. The executive is the office of the Governor.  The legislative is a body of law making representatives. The judicial system is a court system with a supreme court to interpret constitutional matters.
Virginia has a Constitution that existed before the National Constitution.  Many of the founding fathers were lawmakers and government officials in Virginia.  The Virginia Bill of Rights was the inspiration for George Mason supporting our first 10 Amendments to the U.S.
The Virginia General Assembly
The General Assembly is a bicameral body consisting of a lower house, the Virginia House of Delegates, with 100 members, and an upper house, the Senate of Virginia, with 40 members.
Leave a Comment