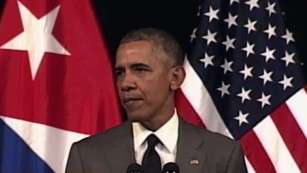 "The world must unite" was the Presidents first words.
"I have come here to bury the last remnant of the Cold War in the Americas." "I have come here to extend the hand of friendship to the Cuban people." Obama noted  that there were "very real differences" between the two countries, like political systems and economic models. Obama an appeal for freedom in the Communist island. "I can't force you to agree, but every person should be equal under the law, citizens should be free to speak their mind without fear." People should be able "to organize and criticize their government and protest peacefully." "Not everyone agrees with me on this, but I believe those human rights are universal. I believe they are the rights of the American people, the Cuban people and people around the world." Obama explained that democracy is perfect, because "It gives individuals the capacity to be catalysts." "You had two Cuban-Americans in the Republican Party running against the legacy of a black man who was president while arguing that they're the best person to beat the Democratic nominee who will either be a woman or a democratic socialist," Obama said. "Who would have believed that in 1959, that's a measure of our progress as a country." Obama said he will work on removing limitations on Cubans who want to open businesses and to Internet access. "What changes come will depend on the Cuban people." Obama added "If you can't access information online, if you cannot be exposed to different points of view, you will not reach your full potential, and over time, the youth will lose hope." "Since 1959, we've been shadow boxers in this battle of geopolitical politics and personalities," Obama said. "I know the history, but I refuse to be trapped by it."
To learn more about Cuba's situation until present day, 
click here.