Ex-NFL player faces multiple murder charged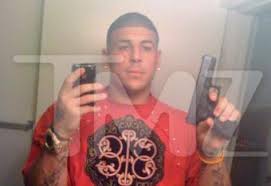 Aaron Hernandez, an ex NFL tight end for the New England Patriots has been eyed in yet another murder case. This time, he is being investigated for a double homicide in addition to his on going trial for the murder of Odin Lloyd. Aaron Hernandez, who is 23 years old, was indicted in August 2013 for first-degree murder and weapons charges related to the death of his friend, Odin Lloyd. Hernandez has pleaded not guilty. More recently the Boston Police department gained a search warrant on Hernandez house in connection to a 2012 shooting in Boston which left 2 dead. No official charges have been filed against Hernandez, and authorities have not commented publicly on the investigation.  However a grand jury has been looking into Hernandez's possible connection. Authorities recognized Hernandez driving a silver Toyota 4Runner into a parking garage just after midnight on July 16, 2012, according to the warrant. About a half hour later, Hernandez is seen with another man later identified as Alexander Bradley following the soon-to-be victims of the double homicide and two other men as they entered the nightclub Cure about midnight.
http://www.hlntv.com/article/2014/01/10/aaron-hernandez-search-warrant-two-murders?hpt=ju_r1
In my opinion I think it is no coincidence that Aaron Hernanadez is also being looked at in this investigation because he is already on trial for another murder. I think this man is a cold blooded murderer and will be found guilty in all cases against him.