Father Boyle
Father Boyle is a Catholic priest who began Homeboy Industry in 1992, Los Angeles. Father has been running this industry for 20 to 30 years. Until this day, he is still alive giving out speeches 200 times a year. He wanted to treat gang members as human beings. Father Boyle says "Homeboy Industries is not for those who need help, only for those who want it." He has made programs that are very useful and helpful such as having a tattoo removal program, legal services, case management, education and many more.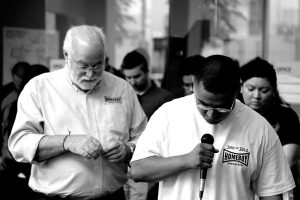 One thing to know about Father Boyle is that he cares and loves these members whom he works with, not only are they just gang members, criminals, or immigrants but he treats them as family and has a good, chill bond with them. Father Boyle wanted to help this man name Ramiro, who was fresh out of prison due to being a gang member. He was one of the first man that left an angriest trace movement in his life that Father Boyle has ever met. Ramiro was having trouble finding a job, yet had FUCK THE WORLD tattoo on his forehead which was keeping him from not having a job. The Father Boyle had started the tattoo removal program. His team and Father Boyle had then added many laser machines and doctors who perform more than four thousand treatments a year.
Father Boyle is the first person that I have ever heard about that has found an industry that made a difference in his work. He helps and provides gang members and criminals who can't get into regular jobs such as others, and also those who weren't able to fully succeed on having an education. He believes and trusts these members like blood.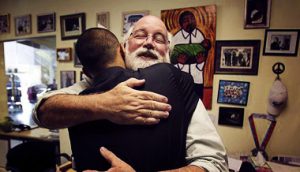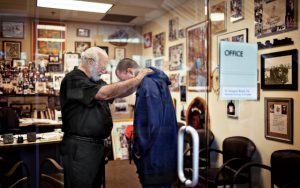 I'm astonished on how Father Boyle is really a down to earth type of man, and highly believes that lessons can be learned and everyone deserves a second chance especially in the Homeboy Industry. I love the fact that this industry is very welcoming to gang members who might assume they can't do nothing and has given up because of what they have done and been through in the past. He makes his team believe and hope in themselves that they can do anything just like the others can, we are all the same human beings that make very different types of mistakes.
---
Links:
 https://www.homeboyindustries.org/fatherg/ (His website)
https://en.wikipedia.org/wiki/Greg_Boyle (More information)
View Comments (3)