FEED the Future: Become a PWCS Food Service Worker
Welcome to School Food & Nutrition Services!
Our mission is to provide enjoyable, wholesome, high quality, nutritious meals and food items served in an efficient, friendly manner at a price customers can afford.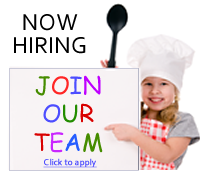 http://pwcsnutrition.com/index.php?sid=0408101731444083&page=staff#join
Click on the link above to apply!!!!!!!!!!