GLADNESS WITH GREG BOYLE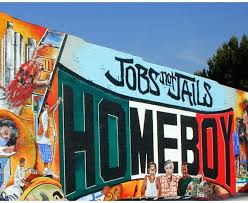 Have you ever met somebody that leads others by example?  Gregory Boyle is the founder of Homeboy Industries, the largest gang-intervention, rehabilitation, and re-entry program in the world. He is also the author of the 2010 New York Times-bestseller Tattoos On The Heart: The Power Of Boundless Compassion. His 2017 book is Los Angeles Times-bestseller Barking To The Choir: The Power Of Radical Kinship.
Lessons from the chapter on Gladness and how it relates to citizenship.
One of the quotes on the book that I like is that one that says "If it ain't a pleasure, it ain't a poem" because the meaning that I get from it is that in everything you do to be considered successful in your life you can enjoy it. In this chapter on gladness Boyle talks about American citizens like Dorthy Day who served the poor with a "duty to delight".  But this duty begins with paying attention to what Mary Oliver calls "the music with nothing playing". This means paying attention to the people around us in our current circumstances so that we can be surprised by the joy in grief and the hope in anguish.
An example of this in my life is my anger problems, because from all the experiences I've had and the issues I've had that has taught me to react a different way to everything instead of getting angry. I could say I got self control now. One example of how I would react to something before I realized that violence would not benefit neither the other person nor me but it would affect my life, my future and my loved ones, most likely I would react with violence or something that could affect another person's life but now what I think is that we should learn from embarrassing moments or times where we could take them in the wrong way it should not be taken out on anger but we must learn from all of it now that we're grown and more mature.
On pages 162-163 of the chapter.
Boyle talks about Buddhism and Christianity with a common truth.  
"We can begin to change the world by first changing how we look at the world"
Turning the "grief and the anguish" into the "joy and the hope".
"They had just put on a whole new set of eye wear"
He discusses how 3 brothers (Rickie Adam Jacob )were standing on the corner and the two older brothers were in a rival gang of a drive by…instead of hitting their target the youngest brother who was 12 and not in any gang was killed.  The older two brothers found Greg and Homeboy Industries.  
" No despair of ours can alter the reality of things, or stain the joy of the cosmic dance which is always there…We are invited to forget ourselves on purpose, cast our awful solemnity to the wind and join in the general dance."  Thomas Merton.
Father Boyle was surprised that him and Homeboy Industries could give the two brothers a new eye wear to look at things differently than how they would see everything before they knew about Homeboy Industries because if they had still been living the way they used to lived the first thing that would've came to their mind would be retaliation.
We hold these truths to be self-evident, that all men are created equal, that they are endowed by their Creator with certain unalienable Rights, that among these are Life, Liberty and the pursuit of Happiness.–That to secure these rights, Governments are instituted among Men, deriving their just powers from the consent of the governed. 
-1776 Declaration of Independence
Thomas Jefferson gave us the same idea at the "beginning" of our society. Imagine if we all had that same vision the same way to look at thing with gladness, be truth to all of us and how he said see each other equally and break every "division" that divides our communities so that we can all become better and give a better environment to us and our future generations.
http://www.gratefulpeople.com/fathergregboyle
Leave a Comment