Global Business Deals Corrupt the Presidency in Peru
In politics they say money is the source of all corruption.  This is true in Peru.  For more than 30 years the Presidency of Peru has been corrupted by being closely tied to business payoffs and special inside deals.  The biggest scandal involves a Brazilian multinational company called Odebrecht.
All these corruption movement started with the ex-president Alberto Fujimori who served the presidency of Peru for 10 years (1990-2000).  even if he stopped the terrorism and restoring Peru's macroeconomic, a video appeared showing that he's been getting money from one of his most trusted guys. He's now in prison even if he was free for some months, he's back at prison.
The corruption continued to the next president Alejandro Toledo who served for 5 years the presidency (2001-2006).
At the moment he's wanted in Peru but he's living here in the US. The people who corrupted him are saying that they gave him at least 3.9 million dollars just to giving them some parts of the Peruvian territory on the sea. Therefore, he has been corrupted by Odebrecht too.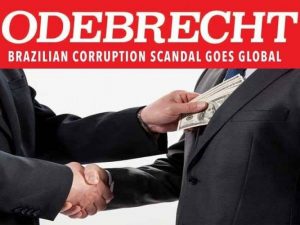 Therefore, the next president is one of the most who stole more than anyone but there are anything that can prove he was corrupted too. Alan Garcia has nothing against him at the moment but all Peruvians know what he did to get money. He served twice, his first presidency was on 1985-1990, people say that at that moment he was honest and didn't steal that much, lol, but at his second time as president (2006-2011), he took more than anyone. Now it seems that he's asking for asylum on Uruguay because he's been investigated.
https://www.bbc.com/news/world-latin-america-46256694
Now we have Ollanta Humala (2011-2016) he's now in prison with his wife because of money laundering. Humala's wife has been caught with an agenda that has many corruption things, at a moment a person knew about this and he went to talk with the news but the next days he was found dead. People started to think that he knew more than that, so that's the reason he got killed.
This is why government needs honest checks and balances. The benefit in the US is that we don't change our constitution unlike Peru that its last change was on 1993, that's why people of the government can do what they want to do.
http://www.congreso.gob.pe/eng/constitution/
http://https://www.washingtonpost.com/news/worldviews/wp/2017/07/15/latin-americas-mega-corruption-scandal-just-claimed-its-two-biggest-names/?noredirect=on&utm_term=.29e9fe0bf453
Leave a Comment