Global Media and Human Sympathy; Comparing Terrorism and Natural Disaster
As  we all know there have been several terrorist attacks in Europe recently.  As an example on the evening of Friday November 13 2015, a series of coordinated terrorist attacks occurred in Paris and its northern suburb,Saint-Denis. Beginning at 21:20 CET, three suicide bombers struck near the Stade de France in Saint-Denis, followed by suicide bombings and mass shootings at cafés, restaurants and a music venue in central Paris.
The Paris attackers killed 130 people, including 89 at the Bataclan theatre, where they took hostages before engaging in a stand-off with police. Another 368 people were injured, 80–99 seriously. Seven of the attackers also died, while the authorities continued to search for accomplices. The attacks were the deadliest on France since World War II, and the deadliest in the European Union since the Madrid train bombings in 2004. France had been on high alert since the January 2015 attacks on Charlie Hebdo offices and a Jewish supermarket in Paris that killed 17 people and wounded 22, including civilians and police officers.
https://en.wikipedia.org/wiki/November_2015_Paris_attacks
All  the world showed support to France and the biggest support was on social media.  How many of us changed our profiles to reflect support for the colors of the French flag?   What is it about violent attacks of human beings on other human beings that brings out a universal sympathy?  Could it be that the world wants to show a better side to human nature?  Our sympathy becomes more global in the face of unexpected violence and fear of our fellow human beings than it does when a regional natural disaster strikes.       
There was a terrible natural disaster that occurred in Ecuador and very little sympathy has been shared. On April 16, 2016, a major 7.8 earthquake hit in Ecuador and a few days later on April 20, 2016, another earthquake – 6.2 in magnitude – also struck the country. As of April 21, 2016, this devastating natural disaster has taken the lives of over 500 people and injured more than 4,000 – marking the worst natural disaster the country has faced in decades. Hundreds of buildings have been damaged, including some 150 schools. While tourist areas are among the hardest hit, many remote villages are still inaccessible due to landslides and damaged communications systems. Lots of help from different countries including the United States was offered and continues to help find people and rebuild the destroyed cities but very little has been discussed compared to the 24 hour coverage that happened for days following the terrorist attacks.
https://www.worldhope.org/emergency-response?gclid=CPrXi7qQ38wCFcdehgod-IMP5w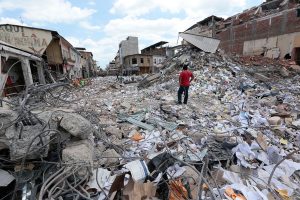 Terrorist attack in France differs from the earthquake in Ecuador because it was created by the humans and the other was by natural causes where we have no control at all.
For me the story from Equador is different.  The idea of this essay was created by a friend of mine who I actually don't really know in person but from a video-game.  He and his family are from Ecuador, but at the day of the first earthquake we were talking while playing online, he was on vacation at a house in New York when he got a call that freaked him out.  He didn't even turn the mic off and he was talking about the earthquake with one of his aunts. She was living far from where the majority of my friend's family live and they didn't know anything about them. It was like that for a week and he told me " you know, I haven't seen one person using the flag of Ecuador on their profile picture as they did when the terrorist attack in France" those words made me think.
People seem to pay more attention to countries by looking at their size and economic status.  Countries like Ecaudor are small and poor and so it is like nothing happened on the global media network.   I will like to know why does this happen? I know a lot of people will say "a profile picture with a flag on will not help anyone" but why did they used it with France then? I think it may not help anyone but people by looking at that kind of things will feel more appreciated from the world.
As I wrote this story I looked harder for signs of the global response to Ecuador and interestingly I found this website from Belgium.