Hearts of Glass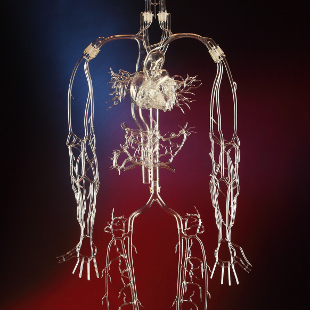 How can one man make a difference?  Gary Farlow followed his passion for glass art and his works are now helping the scientific community to better understand how the human body functions.
In California's Sierra Nevada Mountains artists and scientists are teaming up and creating magnificent, mind blowing products. Northeast of Sacramento, you'll find Farlows Scientific Glassblowing. Inside glassblowers are creating glass models of the heart,brain, and vascular system. Farlows Scientific Glassblowing makes organs and vascular models used by medical device manufacturers in preliminary testing to see if thier products actually function in real life situations.
"A lot of these models are FDA approved for companies so that they can use it as a true proving ground to get to the next level of testing"
– W. Martindale, Farlow's Scientific Glassblowing Production Manager
The  company production manager told CNN that doctors have put in requests for both healthy organ models as well as simulations of diseased organs.  He said,  "sometimes doctors want a diseased heart, so each one is unique". Now they are even shipping globally and they have shown a steady growth even though the demand from the science and medical industry can fluctuate.
http://www.cnn.com/2013/02/27/tech/innovation/scientific-glassblowing/
The whole concept of artist and scientist coming together and bringing all their talents together for solutions to existing problems is amazing. I personally love the art of glassblowing. When I saw this article I was really excited to see glassblowers stepping out of the box to create these scientific models that are fully functional and can potentially help save lives. I'm eager to see what will come of this company as time goes on or if any other scientific companies will be born out of art.