Heroic Officer dies tragically from a police bullet in a senseless act of violence.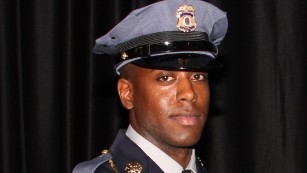 In Prince Georges county a police officer was killed by his own partner's bullet.  This pre-planned tragedy was decided by three brothers; 2 brothers recorded the third brother opening fire on police officers.
An autopsy revealed that the bullet that struck  and killed Officer Jacai Colson was from one of the other officers.  Brothers who had planned this horrible attack had been filming their brother knowing well that he could die, but surprisingly the shooter is expected to survive and will be prosecuted.  As video revealed the shooter opened fire on the police station as well as passing cars and homes.
This police officer arrived to the police station in plain clothes without a bullet proof vest, as he approached the police station he witnessed something he could never imagine ;officer Carlson quickly displayed authority as he quickly responded to the scene and heroically diverted the gun fire towards himself
http://www.cnn.com/2016/03/15/us/maryland-police-officer-killed/index.html
The democratic values of liberty, authority, and security were violated in this terrible act.  We need to trust in our justice system as they prosecute this ugly crime and try to understand what would motivate such actions from American citizens.