Hillary's Health Issue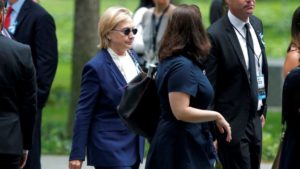 In these final days of debating about our new and upcoming president of the United States of America their personal health has become an issue.  The Democratic nominee is  69 year old Hillary Clinton. She is the first woman to be a major party nominee in US History.  To show respect, she attended the 9/11 ceremony to remember all the lives that were lost that day. People tend to point fingers at one another but forget the innocent lives that were killed on this day. Halfway through the ceremony due to the extreme heat, she had a seizure and collapsed and had to be escorted to the ER. This is big deal for all of the Hillary supporters. To many this is a sign of weakness in this first woman to be a major party nominee and people don't like to have what is perceived as a weak leader. It's recently been reported that Hillary was diagnosed with Pneumonia and since then she came back strong in the first televised debate on Monday September 26th .
"Secretary Clinton attended the September 11th Commemoration Ceremony for just an hour and thirty minutes this morning to pay her respects and greet some of the families of the fallen," spokesman Nick Merrill said. "During the ceremony, she felt overheated, so departed to go to her daughter's apartment and is feeling much better."

https://www.washingtonpost.com/news/the-fix/wp/2016/09/11/hillary-clintons-health-just-became-a-real-issue-in-the-presidential-campaign/
http://insider.foxnews.com/2016/09/11/twitter-video-appears-show-hillary-clinton-collapsing-911-memorial-service
Republican nominee Donald Trump feels much more confident about his own health despite being the oldest Presidential candidate ever at 70 years old. Hillary is 69 and her health has become an issue.  Trump used this latest incident to convince people that his health is good.  In his usual vague but assertive style he is quoted as saying "I'll be releasing very, very specific numbers" regarding his health statistics.
The whole situations seems sketchy. As soon as Mrs. Clinton came out the hospital it seemed as though nothing was wrong with her. No one gets up and walks like nothing has happened after a seizure from Pneumonia. Another thing is how do you get Pneumonia in hot weather? It doesn't make sense at all. At the end of the day all that matters is that she is okay to proceed on to this election.
For more information click the link on Hillary's Health Issue