Honoring Military Service and Sacrifice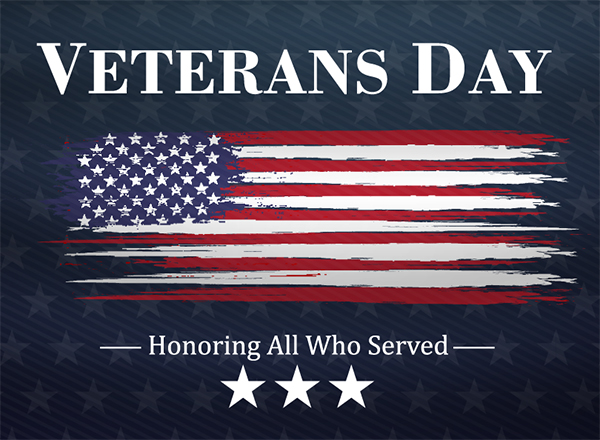 On the 11th hour of the 11th day of the 11th month in 1918, World War I came to an end. Known as the Great War, this was the deadliest conflict the world had ever seen at the time. More than 16 million soldiers and civilians were killed during the war. The first Veterans Day was known as Armistice Day and was observed on November 11, 1919. (History of Veterans Day)
Now, Veterans Day commemorates U.S. veterans of all wars, and is a day to pay tribute to all of those who served their country. This day is different from Memorial Day, which honors those military members who died in service. Veterans Day is observed at a national and local level. An annual ceremony is held at Arlington National Cemetery, as well as parades across the country.
A Veteran is a person with military experience.  In the United States there are six branches of military service.  No matter the differences of mission there is a common willingness to sacrifice life and safety for the greater good.
To learn more about the six branches of military services, check out the link below.
https://www.usa.gov/join-military
We are a diverse student community.  The following represents our collective thinking.
What do you know about Veterans day?
I know that we celebrate Veterans days because on the 11th hour of the 11th day of the 11th month in 1918,World war came to an end. I think it is very important to celebrate Veterans day because of the memories of those who died in the war. I also know that Veterans are the people with Military experience,Veterans are the people who fought for us,who stood up for us. – Sophia 
 11th of Nov every year is Veterans day.this day is a simple way to show Military Service Member hoo much we are proud, respect, and regard we have to them – Tarik
What I know about Veterans Day is that important people around the world help countries  to be  stable in the war, it is a celebration in the United States dedicate to men and women who have belonged to the armed forces.And it is celebrated on November11 there are more than a million veterans men and women it is a special day for them.They have spent many years in the armed forces. There are some who go from military to cave to be in a higher position than hers with their experiences. It is a pride to have them as veterans. – Gabriela 
What can we learn from a Veteran?
The best thing you can learn from a veteran is to appreciate where you are at this moment in life. You have the ability to determine where life takes you. Most of that freedom wouldn't be ours if it wasn't for the men and women who devote their lives to make America.   – Sophia
You can learn a lot from them, starting from patient to the sacrifice, but the thing I like and learned is how much honor and generosity they give to keep the United State of America safe and between safe hands to keep its people as one nation. –Tarik 
Well there are many reasons that we should learn from a veteran such as having leadership, working in teams to learn new skills.Having an example and continuing to share with other people.-Gabriela
What are the things we can do to celebrate Veterans day?
Wherever you are on the day of Veterans day, there are different ways you could show respect to the veterans who fought for the United States. These are examples of how you could celebrate veterans day at school, at your community or even as a veteran.
In school, you could celebrate veterans day by encouraging lessons about veterans day, or even talk to a veteran in your school if there is one.
As a person in a community, you could thank veterans in your workplace or much better supporting veteran-owned businesses. For those who are having a hard time in there current position, you could help them by making donations or volunteering for those affected by their services, and if you are not possible to do all those things you could just observe a moment of silence to show thanks and gratefulness.
Leave a Comment