Hunger in Affluent Fairfax County
By  Iriemarv with contributions by audreyjolene.
There are 16 million kids in America that aren't getting food that they need.  Children who don't have food are going to get sick easier, and they won't do well in school.
Fairfax County is the third wealthiest county in the country.  Fairfax County conducts annual surveys asking students in 6th, 8th, 10th, and 12th grades if they ever went hungry in the past 30 days due to not having enough food in their homes.
http://www.fairfaxcounty.gov/demogrph/pdf/putting_food_on_the_table.pdf
Students who reported having any hunger were more likely to live in a single-parent home, spoke a language other than English or are ethnic minorities.  Thirty percent of students who spoke Spanish and or a language other than English at home reported having some hunger: Twenty six percent of Black/African American students, twenty four percent of Asian/Pacific islanders, thirty percent of students who live with one parent, seventeen percent who speak English at home, and twelve percent who are white. The article also includes a map of Fairfax County that is colored, showing where students have indicated having any hunger.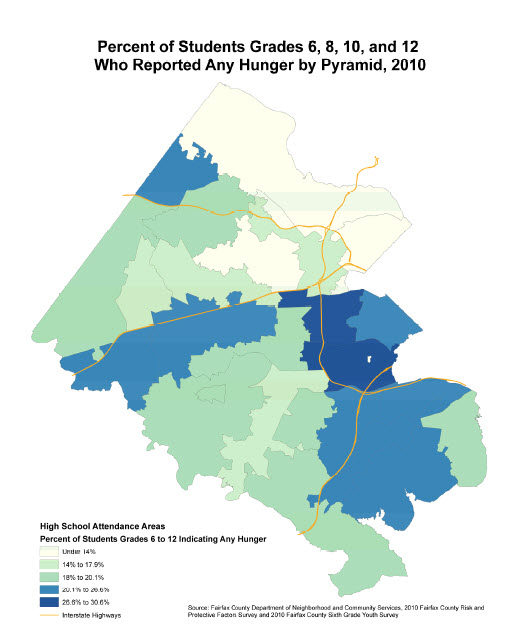 In the map the affected areas of students having indicated any hunger are pretty surprising. The map is colored so each specific color indicates different percentages of students having any hunger, for example the regions colored dark blue is 26%-30%, light blue is 20%-26%, green is 18%-20%, light green is 14%-17%, and white is under 14%. Centreville near route 66 is colored in light blue, which is quite surprising because I live in Centreville and never really thought of hunger being an issue around here. Following Centreville to the east are some parts of Burke and small parts of Vienna that are shaded in light blue as blue. Up the map we have Reston and Herndon that are colored in dark blue, right next to Reston is Great Falls which is a pretty wealthy community so that is shaded in white. Further down we run into Annandale, Springfield and some parts of Arlington that are all colored in dark blue and further south and a little to the east we have Mt Vernon and Lorton that are shaded in light blue. These are the main areas where students have indicated having any hunger, the rest of the map is shaded in as light green.
Now with all that information being shared, why is it that in Fairfax County, the third wealthiest county in the United States is having issues with hunger? The information and statistics I have shared are of those students indicating any hunger, the article also shares another map with us showing another set of statistics that reports students being hungry most of the time or always. The same colors apply but the percentages change. Dark blue is now 3%-3.6%, light blue is 2.6%-3%, green is 2%-2.6%, light green is 1.6%, and white is under 1.6%. I am just going to point out on the map where hunger is the most severe in, which is just the dark blue and light blue shaded areas. On the map the areas that are shaded in dark blue starts at top with the Merrifield area and slides down to Annandale then further down to the Springfield and West Springfield area. The light blue shaded in areas include Centreville, West Falls Church, Franconia, and down into Lorton.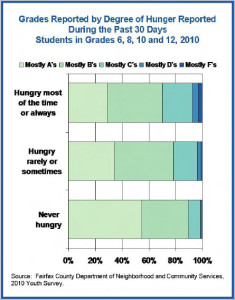 I think the main reason that these areas tend to have issues is because these areas are highly populated. In 1970 the population in the Fairfax County area was around 454,000, and now it is around the millions. The household with the population today is around 408,000, not even half of what the population is. Fairfax County's website has information on the median income in the area which is pretty interesting. Individuals who make fewer than $25,000 is about 7.2% of the population. $25,000 to $49,000 is around 11.4%, $50,000 to $74,999 is 14.2%, $75,000 to $99,999 is 13.3%, $100,000 to $149,999 is 21.3%, and people who make over $150,000 is around 32.6%. I believe that poverty occurs in Fairfax County because of high fertility. The Fairfax County area is an expensive place to live in, because of high cost living, low-income households find it particularly hard to meet basic food needs.
http://www.fairfaxcounty.gov/homeless/homelessness-in-our-community.htm
https://www.nokidhungry.org/problem/hunger-facts