Ida B. Wells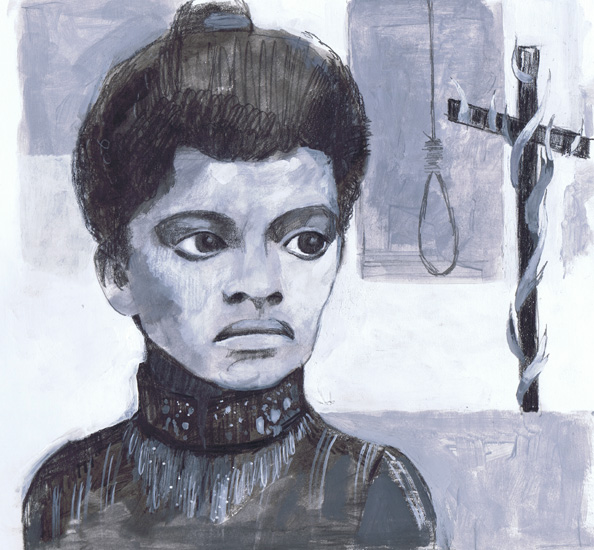 Ida B. Wells was a born slave who fought to stop the lynching of  Black Americans, carrying her fight to Washington, DC.  In 1898 she was part of a delegation to President McKinley demanding government action in the case of a black postmaster who was lynched in South Carolina.
Ida's parents died, and to support her brother and sister she became a school teacher. While traveling to school in Memphis, Tennessee, a train instructor insisted she moved to a smoking car where it was only for blacks. She had refused to go and the instructor grabbed her by the wrist and she bit him. Ida filed a suit against the railroad for their action and she won. Later, the state overruled the decision of the circuit court. Her teaching ended after she wrote a series of articles denouncing the education provided for black  children.
She had became part owner of Memphis Star newspaper. After her three friends were lynched on false charges, she wrote searing attacks against the practice of lynching.  As a result of these and other articles which challenged the action of whites against blacks, her newspaper was sacked and destroyed. But Ida continued the fight, carrying her message to Europe and throughout the country. She was one of the founders of the NAACP and was active in the Negro Women Club Movement she oppose to Booker T Washington's philosophy of accommodation. she had also marched the women suffrage parade and worked with Jane Addams to block segregation of schools in Chicago. Ida B Wells was fearless and well respected.  She was an uncompromising fighter for the rights for all human beings.
I honestly think I would probably be as strong as Ida was when she fought for her kind and freedom for everyone else. She had more guts than anyone I've met or read about.
I wonder what if now a days lynching was still allowed, how terrible would our country be? If  lynching was still allowed I'm pretty sure the population of color people would go down and prejudice would lead to many false accusations on colored people.
Lynching was illegal back then but white people still lynched color people because we allowed it to happen. Breaking the law is really easy but stopping people to do it is where it becomes difficult. We have to thank Ida because if it wasn't for her fighting to stop lynching and went all the way to DC to make a stand about it, we would not have as much freedom as we do now.
Related articles