In FLA Rubio failed to stop Trump
"Not God's plan that I be President in 2016"
Marco Rubio dropped out of the presidential race after losing the primary in his home state. Rubio always had a hard time against Donald Trump at winning states. He failed to get together the Republican voters that were for billionaire Trump. Rubio fixates on his runners flaws, and does not know what he is talking about. He is ignorant of the law and how things work. He warned the people on how Trump will fracture politics and that the people will end up leaving America but he is no better.
Rubio said, "America is in the middle of a real political storm, a real tsunami and we should have seen this coming."  Congress is so separated and unwilling to compromise that it is threatening the function of government. They must learn how to unite through common ground. Rubio is the only candidate that could have stopped Trump in the Republican party. He was the last person that could stop him because he was the next runner up behind Trump. The other candidates don't have a chance. He tried to win the youths vote since they are the future of this country. His campaign slogan was "a new American century". He gave his testimony on how he was a child of Cuban immigrants. He told parents that they should leave their children better off than they were in their time.
Meanwhile Trump has been receiving the plurality of Republican votes in the Primary race. Rubio may have paid too much attention to the negativity of Trump that he neglected to stand on his own.  His focused attention of school yard retaliation towards Trump backfired.
Florida; Rubio's home state was the last chance to make or break Rubio, but Trump won as the polls closed on Tuesday, March 15 at 7pm.  Below you will see a graphic depicting polling results by telephone before the Florida Primary.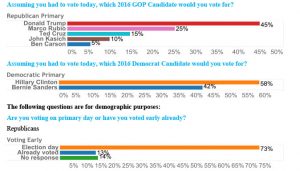 If you would like to see the actual Primary voting results for the Republicans in Florida: CLICK HERE.
Below is actual footage from February 2016 of Marco Rubio and it really shows him being overshadowed by Donald Trump.