ISIS Hostage Sends a Message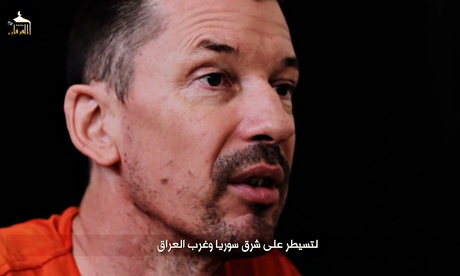 British journalist, John Cantile, hadn't been seen in nearly two years, was in a video released  Thursday September 18th wearing an orange jumpsuit. Cantile says he will be delivering a series of messages for the terrorist group ISIS. Since Cantile is spreading ISIS propaganda many news sites are not showing the video. In recent weeks, ISIS has drawn growing attention for spewing brutal propaganda to terrify and recruit westerners. The group seems to have well-funded and well-organized social media video production. This month, US officials announced that a former Boston resident may have been recruited and is helping produce videos for the militant group.
John Cantile, a photo journalist for several British newspapers, was kidnapped in November 2012, along with American journalist James Foley. Cantile has been a journalist for over twenty years and is best known for working in hostile environments such as Lybia, Syria, Somalia, and Afganastan.
In the video, Cantile shows the other side of ISIS and how they are actually somewhat positive in their motives. Cantile says in the video: "You're thinking, 'He's only doing this because he's a prisoner. He's got a gun at his head, and he's being forced to do this.' Right? Well, it's true. I am a prisoner. That I cannot deny, but seeing as I've been abandoned by my government and my fate now lies in the hands of the Islamic State, I have nothing to lose."
You would think John Cantile would be very nervous and shaking on camera but actually he remained very calm. The fact that he is cooperating with his captors might benefit him in the end, you can tell Cantile is very well spoken and knows how to deal with these kinds of people. I hope Cantile isn't the next journalist we see beheaded before us. The ISIS are clearly trying to get another message across to the world, but with violence no ones going to want to hear what they have to say. Intimidation can only get you so far.
http://www.cnn.com/2014/09/18/world/meast/isis-british-journalist-hostage/