It's Not About You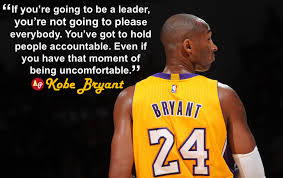 On January 26, 2020, Kobe Bryant and 8 others, including his oldest daughter Gigi, died in a tragic helicopter crash. Kobe Bryant inspired lots of people across the globe like me to carry on our dreams and to not give up. He taught me no matter who you are and what you start out as, you can do whatever you want with just hard work and dedication. Kobe also inspired me to push myself harder not only just on the court, but even in real life scenarios. Bryant has not only helped me improve myself, but has changed young lives and families all around the world.
Kobe participated in the league's NBA Cares initiatives, where he helped build homes and basketball courts, stocked food pantries and supported reading initiatives. Kobe also started, ''The Mamba and Mambacita Sports Foundation'' with his wife, Vanessa Bryant, which improved the lives of young people and their families. He also tried to help others have a ''Mamba mentality'', which means to have a constant quest to find answers. It's that infinite curiosity to want to be better, to figure things out.
The loss of Kobe Bryant, Gianna Bryant, and the other 7, has been a tragedy for his fans, families, and teammates. Kobe was no doubt, a basketball legend for the LA Lakers for 20 years, an 18-time All-Star, five NBA championships and the Lakers all-time leading scorer. He showed the power of individual leadership in american society through sports. Kobe showed us his old mistakes don't make or show who you really are and that good citizenship and leadership begins with self improvement.
So what can young people learn in these tough times of 2020 as we graduate during a global pandemic? I have learned that staying positive and motivated is key to moving on from this pandemic. You need to lead yourself and discipline yourself first before you can have a positive effect on others. Kobe Bryant had lots of leadership and power in the basketball community, as well as lots of authority. Kobe's passing will always be remembered and will be a humbling lesson for the people who really cared and had a passion for him and his career.
Leave a Comment